Height

6' 2"

Weight

198 lbs

Arm Length

31 1/4"

(35th)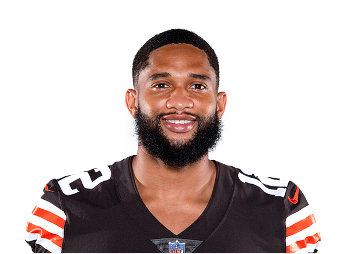 Draft Pick

Undrafted

2018

College

Prarie View A&M

Age

26.9
Workout Metrics
40-Yard Dash
Speed Score
Burst Score
Agility Score
Catch Radius
Year

Year

Games Played

Games

Targets

Tgts

Receptions

Rec

Receiving Yards

Rec Yds

Yards Per Reception

YPR

Air Yards

Air Yds

Receiving TDs

Rec TD

Fantasy Points Per Game

FPts/G

2021

11

15

7

60

8.6

160

0

1.4

(#149)

2020

9

17

11

180

16.4

285

0

3.2

(#122)

2019

8

10

4

76

19.0

157

0

1.4

(#138)

2018

3

3

2

17

8.5

24

0

1.2

(-)
College Dominator

College YPR

College Target Share

Breakout Age
Snap Share

Snap Share

Slot Snaps

Slot Snaps

Team Pass Plays Per Game

Pass Plays P/G

Routes Run

Routes

Route Participation

Route %

Targets

Targets

Target Share

Tgt Share

24.7%

11

(6.8% rate)

35.3

(2.08 pace)

98

(8.9 p/g)

26.8%

15

(1.4 p/g)

4.4%

(9.1% rz)

#159

#177

#16

#133

-

#137

-
Air Yards

Air Yards

Air Yards Share

Air Yards Share

Average Target Distance

Average Target Distance

Deep Targets

Deep Tgts

Red Zone Targets

Red Zone Targets

Hog Rate

Hog Rate

Target Rate

Tgt Rate

160

(14.5 p/g)

9.4%

10.7

2

(0.2 p/g)

3

(1 rec)

9.3%

15.3%

-

-

-

#114

#91

-

-
Receptions

Receptions

Receiving Yards

Rec Yards

Completed Air Yards

Comp Air Yards

Unrealized Air Yards

Unrealized Air Yards

Yards After Catch

YAC

Total TDs

Total TDs

Fantasy Points Per Game

Fantasy PTS/G

7

(0.6 p/g)

60

(5.5 p/g)

49

(3.3 p/tgt)

111

(7.4 p/tgt)

11

(0.7 p/tgt)

0

(0.0% rate)

1.4

#144

#156

#143

#116

#168

-

#149
Yards Per Reception

YPR

Yards Per Target

YPT

Yards Per Route Run

Yards/Route

Catchable Target Rate

Catchable %

Target Quality Rating

Tgt Quality

Catch Rate

Catch Rate

True Catch Rate

True Catch Rate

8.6

4.0

0.61

60.0%

(9 tgts)

3.67

46.7%

77.8%

-

-

-

-

-

-

-
Target Premium

Tgt Prem

Target Accuracy

Target Accuracy

Average Cushion

Cushion

Target Separation

Target Separate

Drops

Drops

Drop Rate

Drop Rate

Contested Catch Rate

Contested Catch %

-39.8%

6.50

5.43

1.33

1

(0.1 p/g)

6.7%

50.0%

(4 tgts)

-

-

-

-

#94

-

-
Production Premium

Prod Premium

Expected Points Added (EPA)

EPA

Dominator Rating

Dom Rating

QB Rating When Targeted

QB Rating

Best Ball Points Added

Best Ball Points

Fantasy Points Per Route Run

Fantasy Pts/Route

Fantasy Points Per Target

Fantasy Pts/Tgt

-28.8

-2.7

1.3%

57.6

0.0

(0.0 p/g)

0.15

1.00

-

#258

-

-

-

-

-
Snap Share

Snap Share

Slot Snaps

Slot Snaps

Team Pass Plays Per Game

Pass Plays P/G

Routes Run

Routes

Route Participation

Route %

Targets

Targets

Target Share

Tgt Share

48.8%

57

(21.3% rate)

31.3

(2.03 pace)

124

(13.8 p/g)

51.7%

17

(1.9 p/g)

7.7%

(9.1% rz)

#101

#125

#213

#142

-

#147

-
Air Yards

Air Yards

Air Yards Share

Air Yards Share

Average Target Distance

Average Target Distance

Deep Targets

Deep Tgts

Red Zone Targets

Red Zone Targets

Hog Rate

Hog Rate

Target Rate

Tgt Rate

285

(31.7 p/g)

14.6%

16.8

4

(0.4 p/g)

3

(3 rec)

6.3%

13.7%

-

-

-

#109

#114

-

-
Receptions

Receptions

Receiving Yards

Rec Yards

Completed Air Yards

Comp Air Yards

Unrealized Air Yards

Unrealized Air Yards

Yards After Catch

YAC

Total TDs

Total TDs

Fantasy Points Per Game

Fantasy PTS/G

11

(1.2 p/g)

180

(20.0 p/g)

157

(9.2 p/tgt)

128

(7.5 p/tgt)

23

(1.4 p/tgt)

0

(0.0% rate)

3.2

#147

#130

#115

#121

#169

#143

#122
Yards Per Reception

YPR

Yards Per Target

YPT

Yards Per Route Run

Yards/Route

Catchable Target Rate

Catchable %

Target Quality Rating

Tgt Quality

Catch Rate

Catch Rate

True Catch Rate

True Catch Rate

16.4

10.6

1.45

64.7%

(11 tgts)

4.58

64.7%

100.0%

-

-

-

-

-

-

-
Target Premium

Tgt Prem

Target Accuracy

Target Accuracy

Average Cushion

Cushion

Target Separation

Target Separate

Drops

Drops

Drop Rate

Drop Rate

Contested Catch Rate

Contested Catch %

-10.0%

36.00

3.90

1.59

0

(0.0 p/g)

0.0%

75.0%

(4 tgts)

#133

-

-

-

#155

-

-
Production Premium

Prod Premium

Expected Points Added (EPA)

EPA

Dominator Rating

Dom Rating

QB Rating When Targeted

QB Rating

Best Ball Points Added

Best Ball Points

Fantasy Points Per Route Run

Fantasy Pts/Route

Fantasy Points Per Target

Fantasy Pts/Tgt

-2.8

19.3

0.0%

75.6

0.9

(0.1 p/g)

0.23

1.71

#148

#74

-

-

#147

-

-
Snap Share

Snap Share

Slot Snaps

Slot Snaps

Team Pass Plays Per Game

Pass Plays P/G

Routes Run

Routes

Route Participation

Route %

Targets

Targets

Target Share

Tgt Share

17.1%

22

(27.2% rate)

36.2

(2.18 pace)

54

(6.8 p/g)

20.3%

10

(1.2 p/g)

3.9%

(2.7% rz)

#194

#153

#20

#160

-

#162

-
Air Yards

Air Yards

Air Yards Share

Air Yards Share

Average Target Distance

Average Target Distance

Deep Targets

Deep Tgts

Red Zone Targets

Red Zone Targets

Hog Rate

Hog Rate

Target Rate

Tgt Rate

157

(19.6 p/g)

3.8%

15.7

4

(0.5 p/g)

1

(0 rec)

12.3%

18.5%

-

-

-

#117

#148

-

-
Receptions

Receptions

Receiving Yards

Rec Yards

Completed Air Yards

Comp Air Yards

Unrealized Air Yards

Unrealized Air Yards

Yards After Catch

YAC

Total TDs

Total TDs

Fantasy Points Per Game

Fantasy PTS/G

4

(0.5 p/g)

76

(9.5 p/g)

64

(6.4 p/tgt)

93

(9.3 p/tgt)

12

(1.2 p/tgt)

0

(0.0% rate)

1.4

#162

#156

#147

-

#169

#140

#138
Yards Per Reception

YPR

Yards Per Target

YPT

Yards Per Route Run

Yards/Route

Catchable Target Rate

Catchable %

Target Quality Rating

Tgt Quality

Catch Rate

Catch Rate

True Catch Rate

True Catch Rate

19.0

7.6

1.41

50.0%

(5 tgts)

2.10

40.0%

80.0%

-

-

-

-

-

-

-
Target Premium

Tgt Prem

Target Accuracy

Target Accuracy

Average Cushion

Cushion

Target Separation

Target Separate

Drops

Drops

Drop Rate

Drop Rate

Contested Catch Rate

Contested Catch %

-33.0%

5.25

3.75

1.35

0

(0.0 p/g)

0.0%

50.0%

(2 tgts)

-

-

-

-

#157

-

-
Production Premium

Prod Premium

Expected Points Added (EPA)

EPA

Dominator Rating

Dom Rating

QB Rating When Targeted

QB Rating

Best Ball Points Added

Best Ball Points

Fantasy Points Per Route Run

Fantasy Pts/Route

Fantasy Points Per Target

Fantasy Pts/Tgt

-31.6

4.1

4.0%

25.4

0.0

(0.0 p/g)

0.22

1.16

-

#182

#169

-

#148

-

-
Snap Share

Snap Share

Slot Snaps

Slot Snaps

Team Pass Plays Per Game

Pass Plays P/G

Routes Run

Routes

Route Participation

Route %

Targets

Targets

Target Share

Tgt Share

17.6%

4

(11.1% rate)

38.2

(2.33 pace)

17

(5.7 p/g)

12.6%

3

(1.0 p/g)

2.3%

(3.8% rz)

#188

#194

#11

#187

-

#186

-
Air Yards

Air Yards

Air Yards Share

Air Yards Share

Average Target Distance

Average Target Distance

Deep Targets

Deep Tgts

Red Zone Targets

Red Zone Targets

Hog Rate

Hog Rate

Target Rate

Tgt Rate

24

(8.0 p/g)

0.9%

8.0

-

(0.0 p/g)

1

(1 rec)

8.3%

17.6%

-

-

-

-

#143

-

-
Receptions

Receptions

Receiving Yards

Rec Yards

Completed Air Yards

Comp Air Yards

Unrealized Air Yards

Unrealized Air Yards

Yards After Catch

YAC

Total TDs

Total TDs

Fantasy Points Per Game

Fantasy PTS/G

2

(0.7 p/g)

17

(5.7 p/g)

17

(5.7 p/tgt)

7

(2.3 p/tgt)

0

(0.0 p/tgt)

0

(0.0% rate)

1.2

#183

#190

#181

-

#197

#151

-
Yards Per Reception

YPR

Yards Per Target

YPT

Yards Per Route Run

Yards/Route

Catchable Target Rate

Catchable %

Target Quality Rating

Tgt Quality

Catch Rate

Catch Rate

True Catch Rate

True Catch Rate

8.5

5.7

1.00

100.0%

(3 tgts)

6.67

66.7%

66.7%

-

-

-

-

-

-

-
Target Premium

Tgt Prem

Target Accuracy

Target Accuracy

Average Cushion

Cushion

Target Separation

Target Separate

Drops

Drops

Drop Rate

Drop Rate

Contested Catch Rate

Contested Catch %

-27.3%

6.67

3.06

1.00

0

(0.0 p/g)

0.0%

0.0%

(0 tgts)

-

-

-

-

#150

-

-
Production Premium

Prod Premium

Expected Points Added (EPA)

EPA

Dominator Rating

Dom Rating

QB Rating When Targeted

QB Rating

Best Ball Points Added

Best Ball Points

Fantasy Points Per Route Run

Fantasy Pts/Route

Fantasy Points Per Target

Fantasy Pts/Tgt

-39.4

-1.0

1.6%

81.3

0.0

(0.0 p/g)

0.22

1.23

-

#201

#190

-

#283

-

-
Value Over Stream: Valuation scheme calculates a player's fantasy pts/game over the average waiver wire replacement in standard fantasy league formats during either the current season (or previous year during the offseason) and adjusts for positional bust rates. VOS rank in parenthesis spans all positions, enabling player comparisons across QB's, RB's, WR's, and TE's.
Games Missed
Injury Reports
Hamstring strain
Week 4 (2020)
Achilles tendon strain
Week 13 (2019)
News & Advice
Get Khadarel Hodge news, rankings updates and start-stream advice, straight to your inbox!