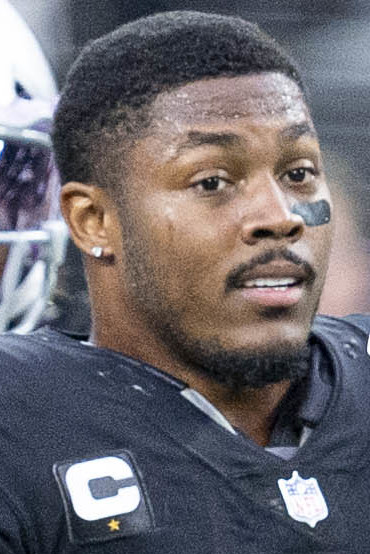 Joshua Jacobs is the starting running back for the Las Vegas Raiders. Growing up in Tulsa, Oklahoma. Jacobs was homeless for a brief period of time, sleeping in his Dad's car and hopping from motel to motel. He was in high school when the family found a home, and it was there he found some structure. He picked up football and began to immediately excel, rushing for over 5000 rushing yards and 55 touchdowns in his career. Despite dominant success, no offers came in. That is, until Alabama recruiters found his film on social media.
Josh Jacobs entered Tuscaloosa as the RB3 behind Damien Harris and Bo Scarbrough, but was the most efficient receiver of the three and earned over 500 yards on the ground. Jacobs's production took a slight hit the next season, when Najee Harris came to town and stole his RB3 role en route to a National Championship.
In 2018, he was again outgained on the ground by Harris and Harris, but led the backfield in receiving for the third straight year. Knowing a lead role wasn't coming, Jacobs opted to leave early and declare for the NFL draft. His college stats created an analytical nightmare across the board. His 4.69 second 40 time, 115.5 burst score, and 13.9-percent college dominator rating leaves little to the imagination. John Gruden and the Las Vegas Raiders thought differently, and selected him near the end of the first round.
From day one he was a bellcow in Las Vegas. He carried the ball 242 times, including an impressive 81 broken tackles and 1.77 yards created per touch despite porous run blocking. For the first time, Jacobs was boasting solid next gens stats. The bar proved tough to raise, but he found a way. His per touch efficiency dropped, but a substantial increase in opportunities vaulted himover 1000 rushing yards and 12 total touchdowns. Finally, in 2021, he unlocked a new aspect of his game, his receiving skills. His role in the passing game took a 180-degree turn, earning a 12.4-percent target share with 3 drops on 253 routes run. Jacobs finished the season with an RB13 fantasy ranking.
In the final year of his rookie contract, Jacobs went nuclear. He finished 2022 with 1653 rushing yards, 400 receiving yards, and 12 total touchdowns on 393 total touches. Jacobs was No. 1 in Opportunity Share as he was established as a key part of the Raiders offense. Las Vegas franchise-tagged Jacobs for 2023 as he hopes to sign a big long-term deal. Regardless of contract, Jacobs is an impactful player when on the field.