Height

5' 10"

Weight

207 lbs

BMI

29.7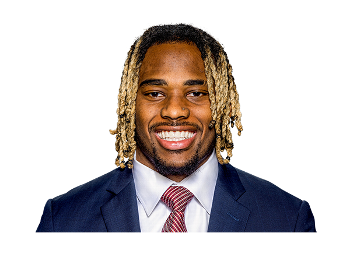 Draft Pick

5.38

2023

College

Oklahoma

Age

23.6
Workout Metrics
40-Yard Dash
Speed Score
Burst Score
Agility Score
Bench Press
High School Workouts
40-Time
Speed Score
Vertical Jump
20 Yard Shuttle
Scouting Grade
College Dominator

College YPC

College Target Share

SPARQ-x
Eric Gray Bio
Eric Gray began his collegiate career at the University of Tennessee, in 2019 and 2020 he shared a backfield with now Minnesota Vikings runningback Ty Chandler. The duo combined for over 1,400 yards from scrimmage in each of the two seasons, before Chandler transfered to North Carolina, and Gray to Oklahoma. After being tabbed as a ESPN Top 300 prospect coming out of high school, transfering or being a back-up likely didn't cross Eric Grays mind until it happened. Gray had offers from Penn State, Michigan, and LSU, among others. 

After transfering to Oklahoma, Gray found himself behind fourth year workhorse Kennedy Brooks, how later finished with over 1,000 rushing yards for the third straight season. In 2022, Gray finally got his opportunity to burden the load under a new regime, and he did the most, finishing with 1,595 total yards from scrimmage and 11 touchdowns, Gray finished with 33 receptions, and although Oklahoma had it's first losing season since 1998, Gray received the ever important Reece's Senior Bowl Invite.
Year

Year

Games

Games

Rush Attempts

Rush Atts

Rushing Yards

Rush Yrds

Total Touchdowns

TDs

Receptions

Rec

Receiving Yards

Rec Yrds

Target Share

Tgt Share

Age

Age

School

School

2019

13

(RB)

101

539

5

13

115

5.8%

20

Tennessee

2020 ★

9

(RB)

157

772

6

30

254

11.6%

21

Tennessee

2021

13

(RB)

78

412

4

23

229

7.2%

22

Oklahoma

2022

12

(RB)

213

1364

11

33

229

10.8%

23

Oklahoma
Eric Gray News & Analysis
Recent News
New York Giants running back Saquon Barkley is the team's ...
Player Popularity Index (PPI) ranks PlayerProfiler page views over the last 30 days. For example, the No. 1 PPI player page is the most frequently visited page in recent weeks.
News & Advice
Get Eric Gray news, rankings updates and draft pick advice, straight to your inbox!