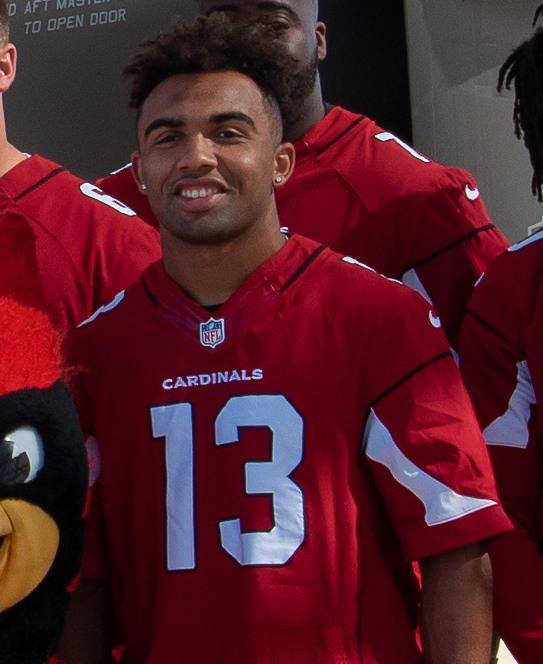 Born in Scottsdale Arizona Christian Kirk attended Saguaro High School where was played as a running back and wide receiver. During the course of his high school career Kirk accumulated 2,698 yards rushing, 3,943 yards receiving and 103 total touchdowns. He was a five star recruit and committed to Texas A&M in 2014. Christian Kirk had the best season of his college career at age 18 catching 80 receptions from 1,009 yards and adding 726 yards through special teams. He posted an above average 74th-percentile 36.8-percent college dominator and a 78th-percentile 26.6-percent college target share and had at least 900 yards receiving in this three years as an Aggie.
Kirk declared as a true junior for the 2018 NFL draft. At the NFL combine he ran a 4.47 40 time. He was selected by the Arizona Cardinals with the 15th pick in the second round. As a rookie, Kirk was heavily involved in the Cardinals offense amassing a 20.4-percent target share and 85.9-percent snap share. He was primarily utilized on the boundary as future hall of famer Larry Fitzgerald occupied the slot. Kirk continued his development as a wide receiver seeing even more opportunities his second season and topping over 1,000 Air Yards for the fist time. Kirk's best season came in 2021 where he finished the year with 982 yards receiving and five touchdowns on 77 receptions as he shifted primarily to the slot for the first time in the NFL running seeing over 406 snaps from the slot.
Christian Kirk never entirely put it all together in Arizona, but often was miscast in roles not suited for him. That did not stop the Jacksonville Jaguars from backing up the brinks truck for him. The Jaguars handed Kirk a four-year $72 million contract that can approach $84 million in value. It is tied for the eighth-fattest contract earned by a wide receiver, along with the contracts of Stefon Diggs and Kenny Golladay. The Jaguars gave him WR1 money, and they used him as such, as Kirk finished the 2022 season with his highest fantasy point total of his career, placing him among the top 12 wide receivers in fantasy football. The Jaguars used him all over the field, and while he doesn't have the body type of an alpha WR, his team has put forth effort to move him all over the formation. The team did acquire Calvin Ridley in the 2023 offseason, Christian Kirk will still continue to be a key cog on this ascending offense for the future.