Arsenal under Mikel Arteta is slowly becoming a side that can compete for the Premier League again. However, they still have to improve their squad in order to compete with the likes of Manchester City and Liverpool. This seems to be a difficult challenge given Jurgen Klopp's recent extension seeing him through as Liverpool's manager until 2026. And with the expectation that Pep Guardiola's extension with Manchester City is soon to follow.
Not only will Arteta have to match up tactically to the above two Premier League behemoths, Arsenal will need near-flawless recruitment of younger players in consecutive transfer windows to begin to try and compete.
According to Squawka, there is an 80.32-percent chance that Arsenal will finish in the top 4 this season. Finishing in the top 4 would ensure a place in the Champions League, giving players more incentive to sign for Arsenal.
With Arsenal on track for a top 4 finish, I have decided to create a list and look at three players that can improve Arsenal and help them contend for the Premier League title. These players are all under 25 years old, allowing them to make an immediate impact starting for Arsenal and grow under Arteta's vision for the years to come.
Player 1 – Victor Osimhen
Position: Forward
With Alexander Lacazette unable to provide the quality that Arsenal needs from their forward, Mikel Arteta needs to bring in a striker who can help his cause. Victor Osimhen should be at the top of his list.
The 23-year-old from Nigeria has been impressive in the Serie A this season. He is tall, fast, and is excellent physically. The Nigerian international is averaging 0.63 goals per 90 minutes in the Serie A this season and has been one of the best forwards in the league.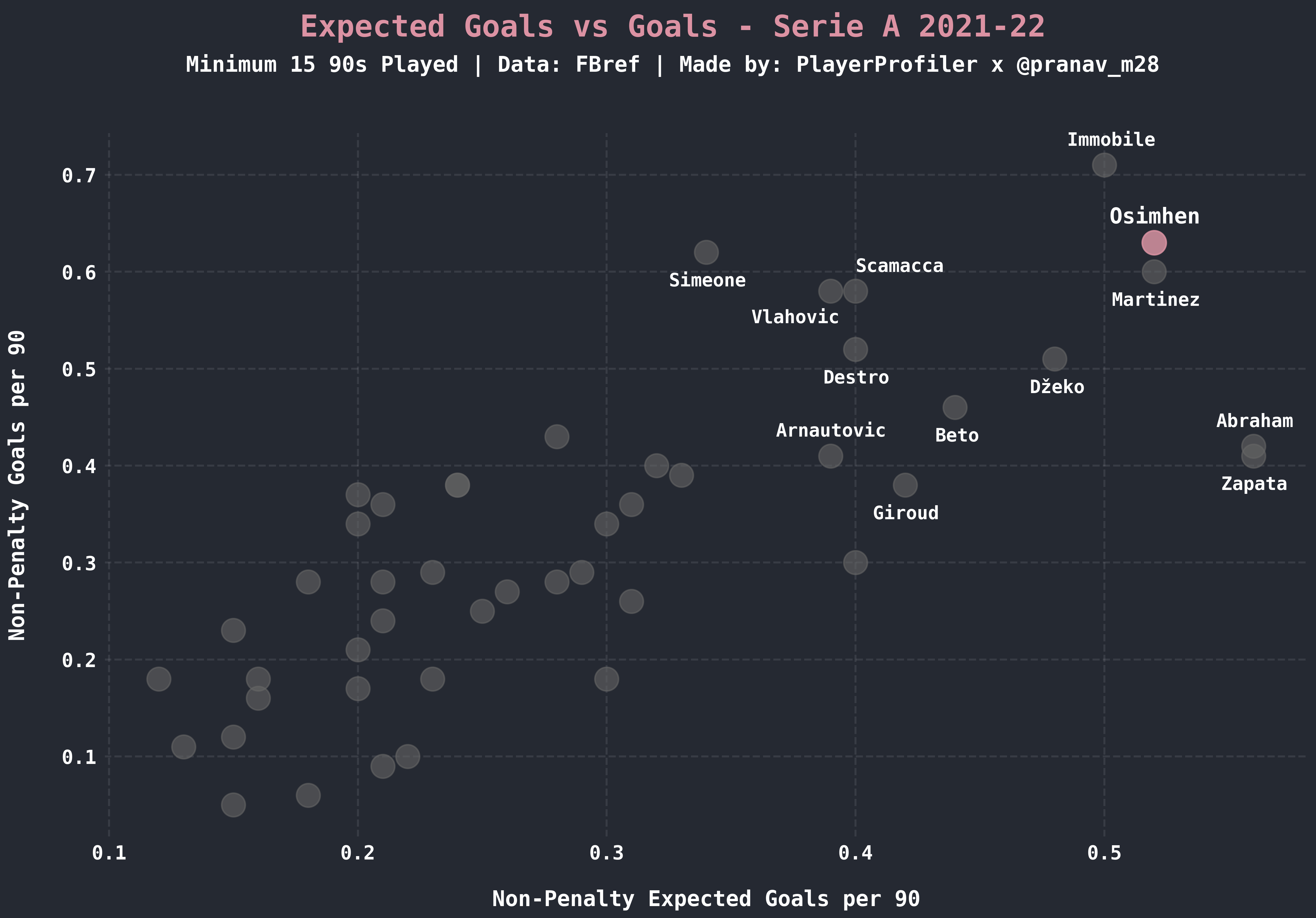 The graph above clearly shows that he is an excellent forward when it comes to goal scoring in Serie A, leading the league in outperforming his NPxG (non-penalty expected goals).
Besides being a good goal scorer, he is also a great ball carrier. He can carry the ball into dangerous locations, and his speed helps him evade defenders. He averages 1.16 Carries into the Penalty Area per 90 minutes, putting him in the 85th-percentile among attackers in the Serie A. His ball-carrying ability sets him apart from the other attackers in his age category.

Final Verdict
Victor Osimhen is a clinical striker and an inside-the-box threat, and he is still only 23 years old. A striker with excellent physical attributes and goal-scoring ability is what the current Arsenal team is lacking. Arsenal should sign him to help them fill that void.
Player 2 – Vitinha
Position: Midfielder
One of my favorite young midfielders, Vitor Machado Ferreira, known as Vitinha, is someone who can improve the Arsenal midfield. The 22-year-old is one of the most talented midfielders in the Primeira Liga this season.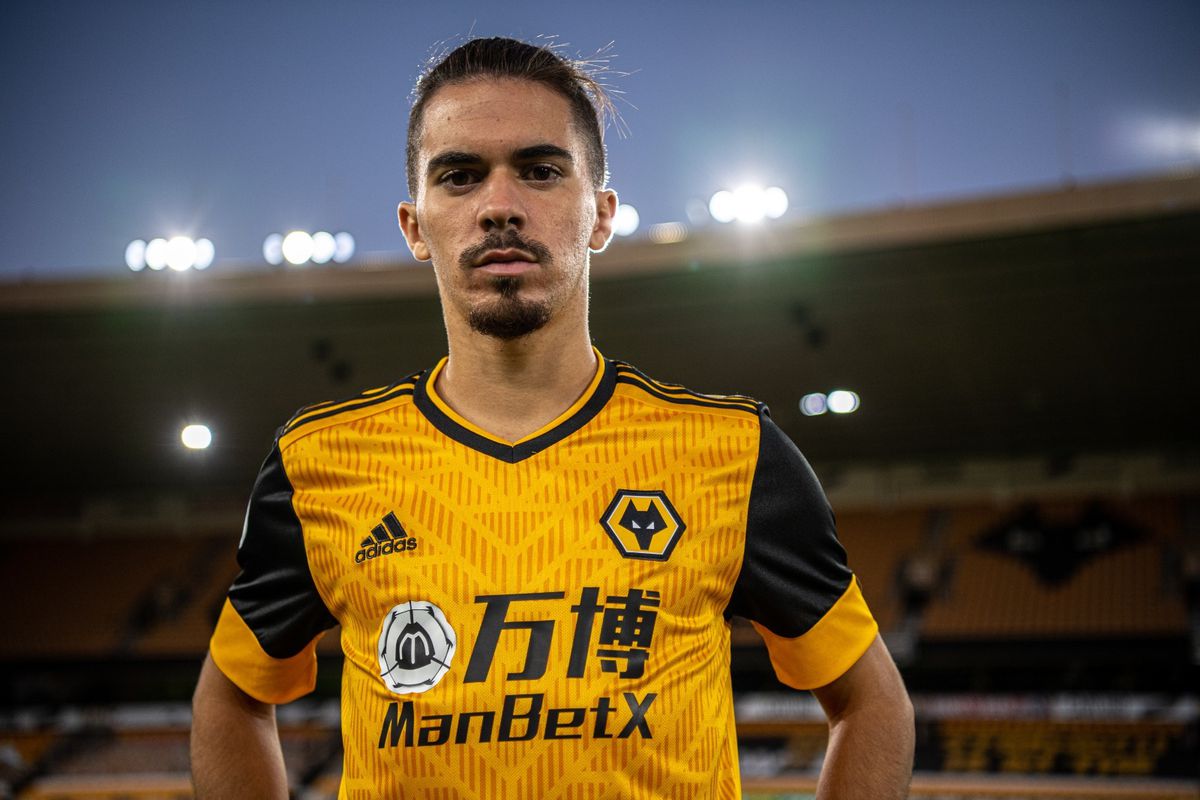 He is a progressive-minded midfielder who is very technically sound. The map below shows all 126 progressive passes that he has made this season in the Primeira Liga. He has been averaging 5.60 progressive passes per 90 minutes this season.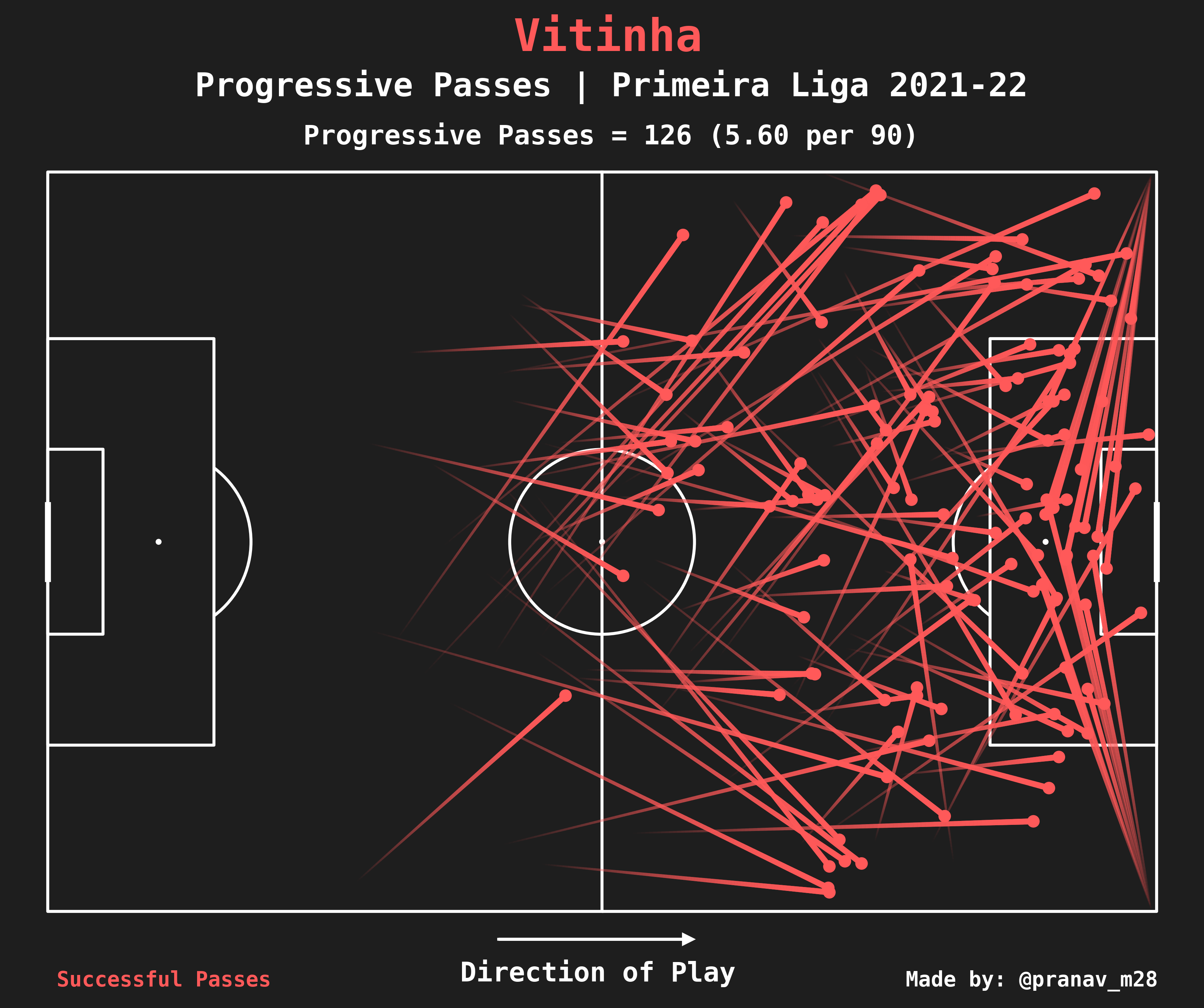 The Portuguese also puts in 1.9 key passes per 90. If we compare this to the current Arsenal midfielders, only Martin Ødegaard puts in more key passes per 90 than him (2.3 per 90). Obviously, there is a huge difference in the quality of the leagues. But Vitinha's final ball ability is still top-notch. It will only improve as he gets more experience.
Other than being a great passer of the ball, he is also a great dribbler. He is quick with his feet and has the Portuguese flair, which helps him get past players.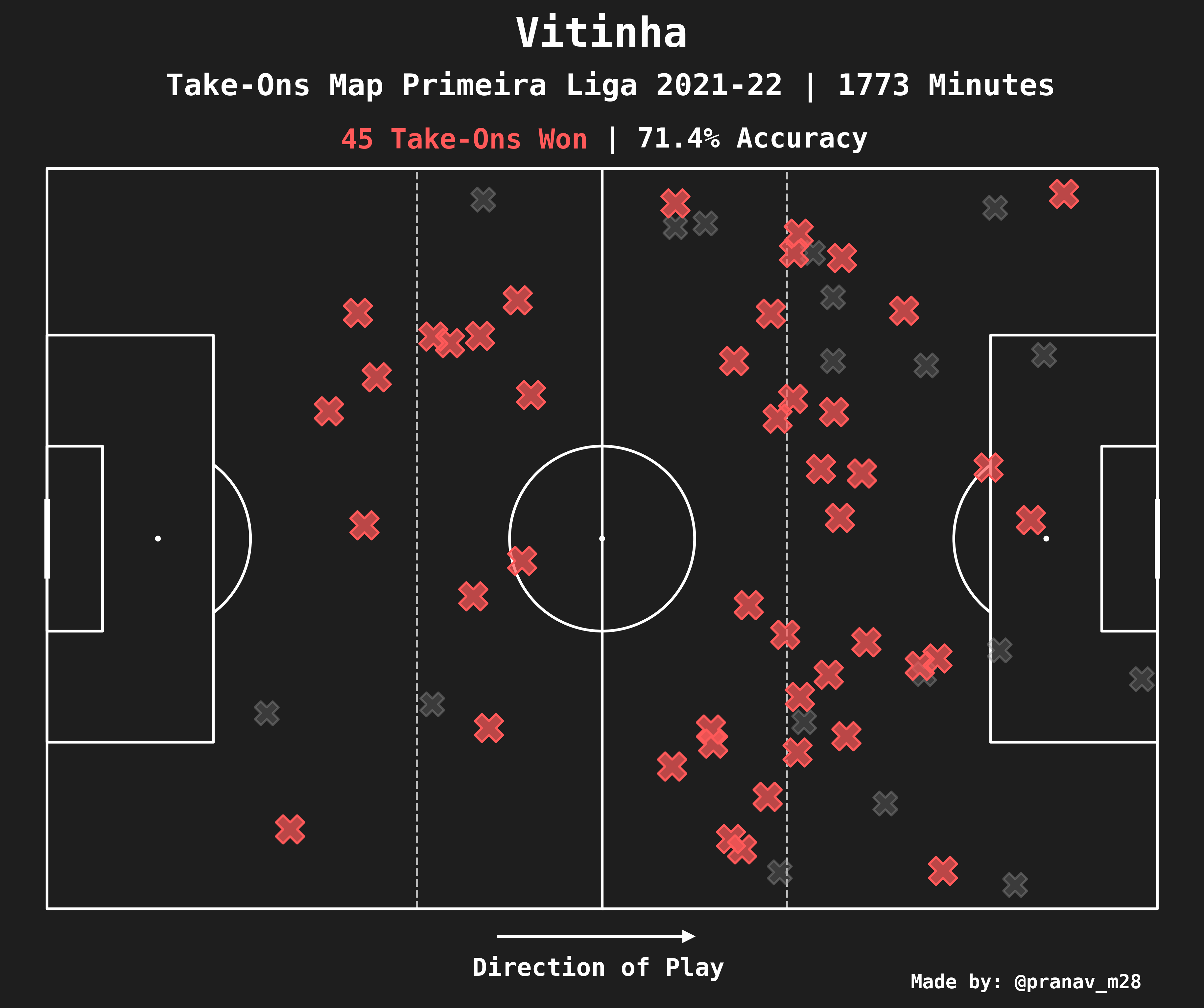 He has completed 45 dribbles this season (at an average of 2 per 90) with an accuracy of 71.4-percent. No Arsenal player (who has played more than 900 minutes) has completed more than two dribbles per 90 this season. In terms of accuracy as well, no Arsenal matches Vitinha's dribbling accuracy.
Final Verdict
The Portuguese international is one of the most technically skilled young midfielders available in the market. With many big clubs interested in him, Arsenal would need to move in for him this summer. Arsenal should sign him to provide some much-needed quality depth for their midfield.
Player 3 – Valentino Livramento
Position: Full-Back
The full-back position is another position where Arsenal needs to improve. If we compare the quality of Arsenal's full-backs to the quality of Liverpool and Manchester City's full-backs, there is a massive difference. The top 2 teams in the Premier League have some of the best full-backs in the world in Trent Alexander Arnold, Andrew Robertson, and Joao Cancelo. These full-backs not only help them to defend but also facilitate chance creation.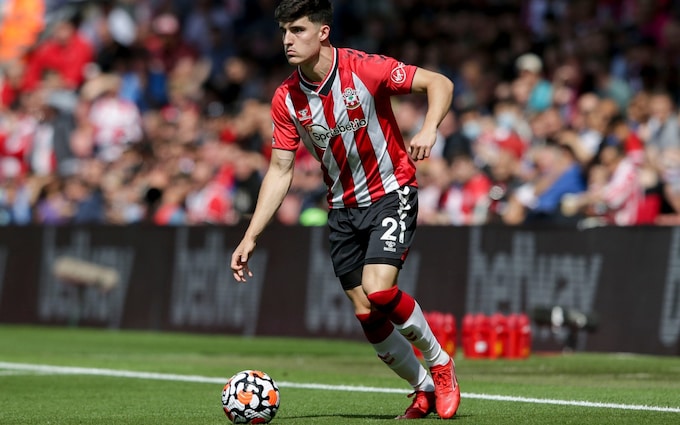 If Arsenal wants to compete with these teams, they need full-backs that can perform both roles. The Gunners should be all over Tino Livramento, who is one of the best up-and-coming full-backs in the world right now. The 19-year-old excels in both defending and ball progression. The Englishman is excellent at carrying the ball forward. He has completed 51 carries into the final third this season at a rate of 2.08 per 90, which places him in the 86th-percentile among full-backs in the Premier League.

Besides being good at progressing the ball, he is also good at defending. The standout stat here is the 94th-percentile for Interceptions. To an extent, it shows that he is excellent at reading the game and, therefore, intercepting the ball.
He is also great at pressing the opponents as he has a success rate of 33.1-perent while pressing and, on average, makes 4.50 successful pressures per 90 (71st-percentile). Having a good pressing intelligence is something that is valuable to Arteta and the current defensive members of the Arsenal squad fail to provide him that.

Final Verdict
Tino is just 19 years of age and has already shown signs of being a world-class full-back. Any team in the world would be lucky to have him. Arsenal should definitely make a move for him this summer. Arsenal should sign him to provide them with some much-needed creativity and a high defensive read of the game.
(All data taken from Opta and FBref