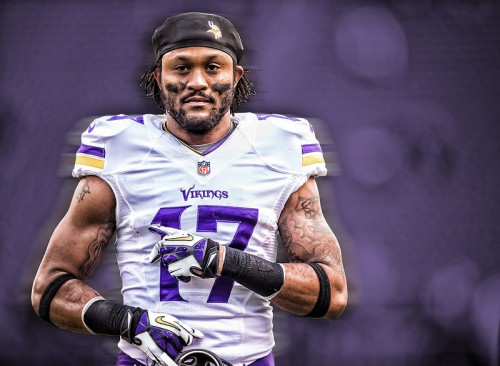 Trading for Mike Wallace was the Minnesota Vikings' most noteworthy offseason transaction.  Minnesota fans were understandably intrigued by the acquisition of a high profile, Pro Bowl-caliber deep threat for a mere 5th-round draft pick.  Teddy Bridgewater's 43.9-percent deep ball completion percentage is a clear upgrade over Ryan Tannehill's 34.0-percent DB percentage, which should give Wallace's fantasy outlook a boost in 2015.  As of August 25th, Jarius Wright, Wallace's teammate and primary competition for targets in 2015, has drafted Mike Wallace on zero fantasy leagues.  Here is why.
All Sizzle, No Steak

Mike Wallace finished as the No. 26 fantasy wide receiver in 2014 powered by a career-high 10 touchdowns on an unusually high number of red zone targets (20) for a 6-0 burner.  The Dolphins visited the red zone often in 2014, and Ryan Tannehill was top-5 in the NFL with 94 red zone pass attempts.  Wallace's fantasy value and perception within the fantasy football community is buoyed by last season's unsustainable red zone usage and his reputation as an explosive athlete.
Mike Wallace is the explosive athlete that workout metrics aficionados frequently fawn over.  From Wallace's 111.7 (91st-percentile) Height-adjusted Speed Score (HaSS) to his 132.5 (90th-percentile) Burst Score to his 10.17 (82nd-percentile Catch Radius) to his 118.7 (87th-percentile) SPARQ-x, he is one of the NFL's premiere field stretchers.  Mike Wallace's has no problem reaching the football.  He has problems catching the football.
Mike Wallace's Catch Rate over the past two seasons are as follows: 51.4-percent (No. 111) in 2013 and 58.3 (No. 59) in 2014.  He was particularly inept at Contested Catches in 2014 as he converted just over 30-percent of his contested targets.  Wallace's inability to secure the football after blowing past defenders also throttled more widely analyzed efficiency metrics such as Yard Per Target.  His YPT landed outside the top-60 each of the last three consecutive seasons.  Mike Wallace is a highly inefficient football player.  At 29-years old, even a quarterback upgrade is not going to change that.
YAC Monster
Another potential obstacle for Mike Wallace's 2015 fantasy productivity is fellow Vikings receiver Jarius Wright.
Jarius Wright posted a +27.5 (No. 12) Production Premium (PlayerProfiler.com's situation-agnostic player efficiency metric) in 2013 and then followed it up with a +10.7 (No. 25) Production Premium in 2014.  Mike Wallace, on the other hand, posted a -11.7 (No. 101) and +8.2 (No. 30) Production Premium over the last two seasons, though with a larger sample size.
Additionally, Jarius Wright has proven that he has better hands than Mike Wallace.  Wright's 60.5-percent and 67.7-percent Catch Rate over the last two years were significantly higher than Wallace's 51.4-percent and 58.3-percent Catch Rates over that same period.  Wright also posted a higher Target Premium and yards per target in both seasons.  Most impressive, Jarius Wright posted a 5.4 yards after the catch per target last season, which ranked behind only Golden Tate.
Beyond his professional resume, Jarius Wright was also more dominant in college.  His 40.2-percent (76th-percentile) College Dominator Rating vastly eclipsed Wallace's 29.6-percent (44th-percentile) share of receiving yards and touchdowns at the college level.  Jarius Wright's consistent dominance and efficiency at every level of football suggests that he is well-qualified for a larger role in the Vikings' offense.
Heading into 2015, Jarius Wright is a seemingly well-known commodity good for occasional single-week explosions out of the slot receiver position (Wright was a fantasy WR1 in week 4 and week 14 of 2014).  However, Wright is more than just a slot receiver.  He is a jack of all trades receiver who possesses the speed and catch radius to play split-end as well as the burst and agility to play flanker and slot.  With the emergence of fifth-round pick Stefon Diggs as a viable slot receiver this preseason, the Vikings now have the flexibility to move Wright around the formation.
Based on his profile, Jarius Wright can play the split-end position similarly to Golden Tate, which would be a clear upgrade over Mike Wallace.  Wright's workout metrics are almost on par with Wallace's, but Wright has been far more efficient, particularly after the catch, each of the last two seasons.  If Vikings' coaches dare to think unconventionally in order to field the most efficient wide receivers whose skill sets match their roles, then Mike Wallace would be out of a job.  The typical offensive coordinator is conservative and tends to deploy the most reliable players on the field on any given play.  Jarius Wright may be the Vikings' most reliable wide receiver, and his efficiency metrics should worry Mike Wallace's fantasy owners.  Indeed, Jarius Wright could simply be a better wide receiver than Wallace.
Conclusion
Jarius Wright is a better fantasy value than Mike Wallace.  Wallace's 76.4 average draft position (ADP) in MyFantasyLeague.com money leagues comes nearly 150 slots before Wright's 224.2 ADP.   The efficiency metrics reveal a hard truth for Mike Wallace enthusiasts.   Wright is better.  Exploit this market inefficiency by passing on Wallace in rounds 7-8 and selecting Jarius Wright with the final selection.