When I find myself in times of trouble, Dion Lewis comes to me, speaking words of wisdom, let it be. And in my darkest hour, when I drafted C.J. Anderson in the 4th, despite clear direction from playerprofiler.com, let it be.
It happened.  You drafted C.J. Anderson.  I am sorry that it happened to you, really I am.  But we are here now and life must go on.  To help ease the pain, the RotoUnderworld Team giveth an arousing and discreet list of 10 players to add across all fantasy football formats.  Pull yourself up by the bootstraps, throw on the old feedbag, let's funnel some waiver adds down the hatch.
Note: The following waiver targets were selected from a group of players owned in less than (or perhaps slightly more than) 50-percent of MFL redraft leagues.
Devontae Booker RB, Denver Broncos
"I'm not here to carry pads. I'm here to take someone's job."  Hey C.J. Anderson owners, that truck tailgating you/laying on the horn is Devontae Booker.  Thankfully, you drafted the safety of an early round running back though, so everything is fine.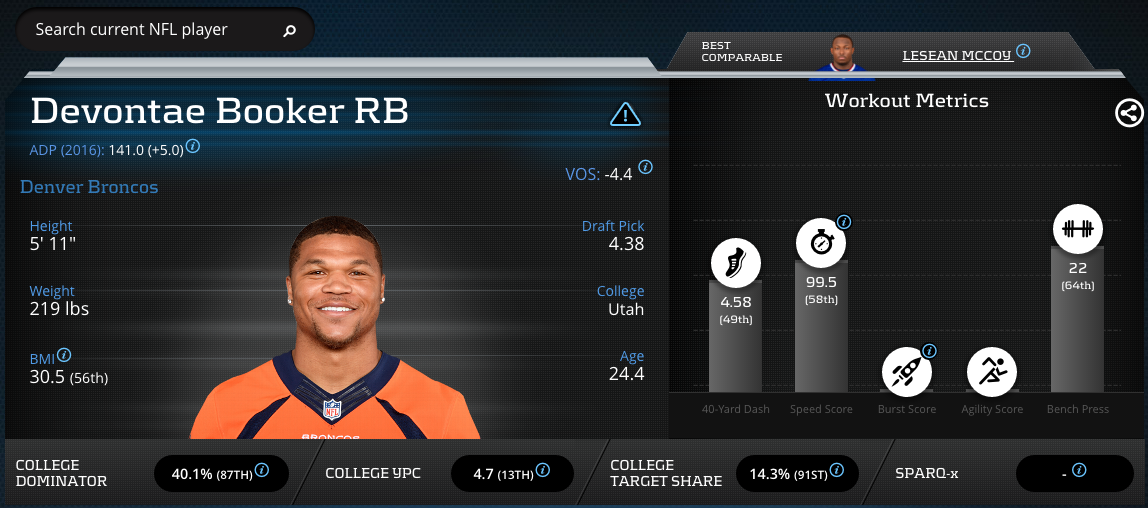 Devontae Booker Advanced Stats & Metrics Profile
This season began with the perception of Anderson as a high volume, rock solid running back.  Now the Broncos backfield must be approached as a full-on committee, with Booker on the upswing and Anderson hemorrhaging touches.
Quick!  Name one measurable way in which C.J. Anderson is superior to Devontae Booker.
By all means, please go develop a reverse engineered, bias soaked rebuttal.  I can see it now.  It will involve some past season splits with good Peyton Manning at the helm, or some small sample game logs.  Booker doesn't care what Anderson has done in the past and neither do I, he's just here to take his job.  Devontae Booker has a 40.1-percent College Dominator Rating (87th percentile), which is more than double the production Anderson delivered at that level. Booker also lit it up in the receiving game, tallying a 14.3-percent College Target Share (91st-percentile), while Anderson held a pedestrian 8.2-percent College Target Share (54th-percentile).  Don't believe me?  Booker's Opportunity Share over the first five weeks is up, up, up…10.0-percent, 26.3-percent, 20.0-percent, 25.8-percent, 41.4-percent.
Kenneth Bone, RB St. Louis Sweaters
Undrafted Southern Illinois running back, Kenneth Bone, burst onto the scene in week 5 receiving one high profile primetime touch.  Cut from the same cloth as fellow high BMI bruisers, John Kuhn, Eddie Lacy and Matt Asiata; Bone looks to build on his superior touchdown per carry efficiency going forward.
Three step process for winning your league and for winning life.
Step 1: Add Kuhn, Asiata, Lacy and Bone to your roster
Step 2: Play them at will
Step 3: Profit
Dion Lewis RB, New England Patriots
The uncertainty surrounding Dion Lewis' return from a second surgery has made him available in many leagues.  Lewis gains eligibility to return to the field in Week 7 and while there has been very little news, I am going to assume he will be ready to roll until I hear otherwise.  In 2015, the diminutive Lewis was an illusive evaded tackles per touch monster, posting a 58.8% Juke Rate (No. 1).  LeGarrette Blount should still be involved, playing the role of the hammer to close out games, but Lewis provides a matchup nightmare to opposing defenses and will be heavily involved.
Cameron Meredith WR, Chicago Bears
The PlayerProfiler Minions have distilled a fairly obvious fact into inequality form for your consumption; Cameron Meredith > Kevin White.  With White injured and no longer able to imitate a bottomless void of illegitimate targets, Meredith immediately stepped in and commanded a 29.3% Target Share delivering 130 yards of production.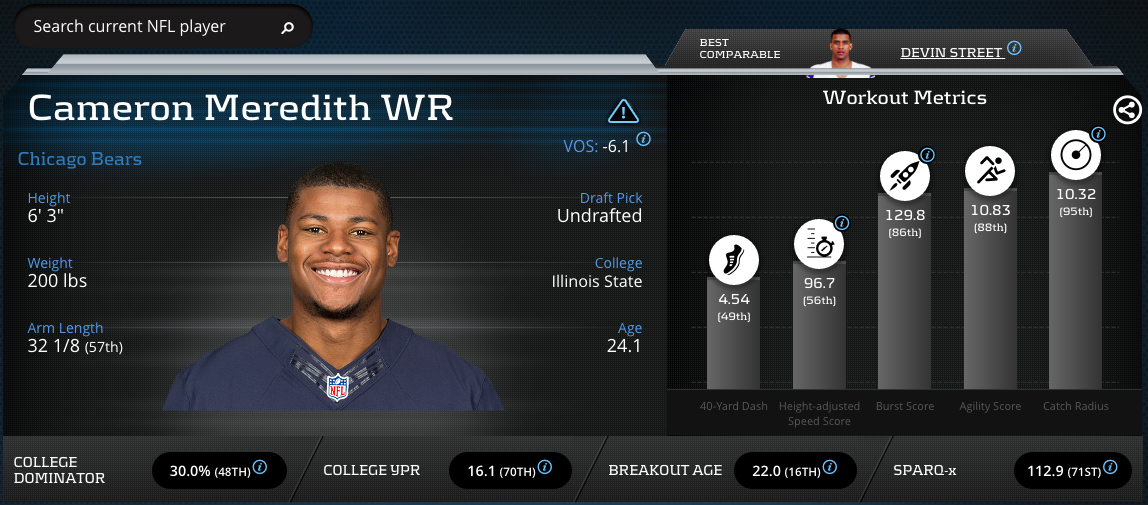 Cameron Meredith Advanced Stats & Metrics Profile
Brian Hoyer (Brian Hoyer > Aaron Rodgers) has been quite productive when targeting Meredith.  Surprisingly, it is almost like quarterbacks, ahem Rodgers, should want players with historical production and athleticism to be on the field. Hoyer is probably just focusing on improving himself instead of worrying about how Meredith catches the ball.  Add Meredith because his quarterback likes to use him and knows how to use him.  Free Janis.
Chris Conley WR, Kansas City Chiefs
Get me a fur at the fancy pawn shop, because Chris Conley has freakish, athletic abilities!  Conley, a third round selection in 2015, owns a 120.6 Height-Adjusted Speed Score (97th-percentile) and 18.3 College Yards Per Reception (87th-percentile), lending a view into the sublime potential he carries within him.  The lone blemishes on Conley's profile; an under performance of his athleticism in college via a 29.3-percent College Dominator (28th-percentile) and a low 11.86 Agility Score (28th-percentile).  Running in 2 wide receiver sets for Kansas City, Conley has earned a golden opportunity, although Alex Smith mutes some of the enthusiasm.  What could the future hold for him?
Fortunately, Player Profiler's Data Analysis Tool can shed some light on the potential for Conley, by providing the option of data field selection to find similar players.  BMI, Height, SPARQ-x, Breakout Age and College Dominator were selected to gather a crude approximation for comparable players for Conley.  The following filter settings were chosen: BMI: ± 2, Height: ±1, Breakout Age: ±1, College Dominator Rating: ±1%.  When the resulting data was sorted by descending SPARQ-X Score the Top 3 players were Sammie Coates, Chris Conley and Andre Johnson.

Chris Conley Similarity Comparison
Ending up on a similarity list, (despite the somewhat arbitrary data endpoints) with Sammie Coates and Andre Johnson, only adds the the Conley intrigue. When the breakout happens for Conley, it will be impressive, this is a warning to get out in front if you have the roster spot available.
Waiver Priority Ranks
In the event that Eddie Lacy misses time with his ankle injury, James Starks should be a waiver priority.  Jeremy Kerley has emerged as a legitimate factor in San Francisco after two consecutive 20+ point weeks.  With Stefon Diggs ailing, Adam Thielen claimed a 26.7-percent Target Share in Minnesota.  Thielen's impressive week 5 coupled with his promising history of college production makes me a believer.  For tight end needy rosters, Austin Seferian-Jenkins provides massive potential now that he is seeing snaps in New York.
Below is the order I would claim players in a vacuum not taking into account individual team needs.