The RotoUnderworld Team conducted its final superflex rookie mock draft of the season. We split up each of the four rounds into four separate pieces outlining the advanced stats, metrics, and analytics profiles justifying each selection. At last, here are the fourth round results of our writer's rookie mock draft with PPR superflex league parameters.
4.01 – Hayden Hurst, TE
Analyst: Marc Mathyk (@Masterjune70)
Rationale:  Although he is going to be 25, Hurst has a lot going for him. In addition to his production level at South Carolina, he is fast, NFL ready, and a first round draft pick.  Stellar draft capital indicates a high level of team investment.  Even though Mark Andrews is also on the Ravens, Baker Mayfield assisted with most of his production. Hurst should get first crack, and for my sake, I hope he takes advantage of it. 
Other considerations: None
Bean Counter's two cents: Hayden Hurst was a mediocre producer (41st-percentile college dominator) in college despite being much older than his competition and already understanding what it takes to be a pro as he was a professional baseball player beforehand. He seemed like a reach by the Baltimore Ravens in the NFL draft but based on his 1st round draft pedigree alone he is worth a flyer here in the 4th round.
4.02 – Antonio Callaway, WR
Analyst: Mark Leipold (@LeipoldNFL)
Rationale: Shooting for the moon here, since it's the 4th round. Callaway was in the first-round conversation based on talent alone, but he comes with significant off-field baggage and a ton of red flags (such as not being able to stay off drugs before the NFL Combine, where a drug test was imminent). More likely than not, he will struggle to meet team requirements and never become a successful NFL contributor. However, there is a chance he follows the path of the Josh Gordon redemption tour, and if he straightens out, his talent and potential would make him a significant fantasy producer. The ultimate Boom/Bust draft choice by both Cleveland and me.
Other Considerations: Jordan Lasley showed a lot of potential in college but struggled with drops and lands on a favorable depth chart. Justin Jackson is a nice satellite back and high-upside handcuff. However, Callaway's talent was too enticing.
Bean Counter's two cents: We have all heard by now that Antonio Callaway has 1st round talent but only fell in the draft due to off-field concerns. He has an elite 18.7 (95th-percentile) breakout age. Breakout age is the first thing to look for when looking at wide receiver prospects so that is a good omen. He has a compact frame for a wide receiver at 5-11 and 200 pounds with 4.41 40 yard dash speed. This is another player I would be happy to take a flier on in the 4th round.
4.03 – Daurice Fountain, WR
Analyst: Miguel Chapeton (@DynastyGuruFF)
Rationale: This late in the draft, Fountain is the best dart one can throw. Not only does he rank highly in my rookie WR rankings, but he also enters a situation devoid of a WR2 in an offense led by Andrew Luck. 
Other considerations: None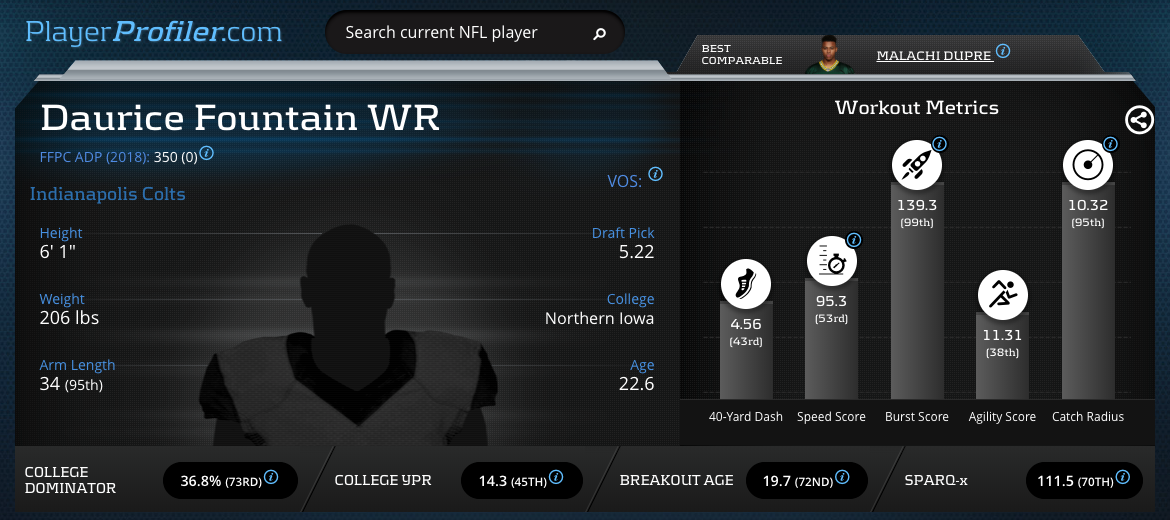 Bean Counter's two cents: Daurice Fountain is the type of player that really doesnt have any red flags other than quality of competition. He is someone that is very intriguiing as he has a 99th-percentile burst score and a 95th-percentile catch radius. Oh, and he was drafted by the Colts. I'll park him on my taxi for as long as I am allowed to.
4.04 – Jordan Lasley, WR
Analyst: Eric McClung (@ericmcclung)
Rationale: Lasley put up massive numbers in only nine games last year at UCLA. Unfortunately, that's about all we have to go on. At the NFL Scouting Combine, a horrible showing in the broad jump cost Lasley any chance at a respectable Burst Score. However, his size and speed are decent, and he has long arms and big hands. It's an odd mix of elite production in a small sample combined with questionable physical attributes. When Lamar Jackson gets on the field in Baltimore, we'll know if Lasley is actually a thing.
Other considerations: Justin Jackson
Bean Counter's two cents: I am noticing a trend with these late wide receivers. They all have very good college production and are adequate to exceptional athletically. Jordan Lasley is another that put up great production in College. He sports a 41.4% (83rd-percentile college dominator. He is another I would like to stash on my taxi squad.
4.05 – Justin Jackson, RB
Analyst: Corey Alexander (@calexander323)
Rationale: Number 2 back in a sneaky, good situation. The projected number 2 back in any offense is worth a 4th round rookie draft pick, much less one that could receive a healthy workload at any point during the season, either as the satellite or featured back. Huge possible upside in year one.
Other consideration: Mark Walton
Bean Counter's two cents: Justin Jackson is exactly the type of RB I would be looking for at this stage of the draft. He has good production, a great target share (86th-percentile) and elite traits athletically with an 86th and 95th-percentile burst and agility score, respectively. He will never be a bell cow back as he sports a 0th-percentile BMI but should find a pass catching role in the NFL.
4.06 – Troy Fumagalli, TE
Analyst: Matthew Dwyer (@theDynastyMD)
Rationale: Opportunity is key. Fumagali has more opportunity than any of these guys. Yes, I will take that in the fourth. Surprised he's still there, given his opportunity.
Other considerations: None
Bean Counter's two cents: Troy Fumagalli is an enigma. We have absolutely no athletic testing on him which leaves us only his mediocre production profile to evaluate. The best thing he has going is a fairly open depth chart and prototype size at 6-5 and 247 pounds. I am not interested in Fumagalli until he is sitting clearly atop a depth chart.
4.07 – Allen Lazard, WR
Analyst: Jerry Amole (@hangovercouch)
Rationale: Allen Lazard didn't get drafted. That's ok though. He signed with the Jacksonville Jaguars shortly after the draft and has potential to make a role for himself in 2018. Lazard claimed it was ridiculous he didn't get drafted and thought it may have been because teams think of him as too big to play wide receiver. That is ridiculous. Lazard has an above average Speed and Burst Score being 6'4 and 225 pounds and was very productive at Iowa State. No other receiver on the Jaguars roster profiles with the size and skillset of Lazard, so he could easily become a go-to red zone target if he impresses in OTAs. Considering the current state of Jacksonville WRs, that shouldn't be hard to accomplish. I am willing to take a chance on Lazard in the 4th round.
Other considerations: Richie James
Bean Counter's two cents: If you are on team "big wide receiver" Allen Lazard is for you. He measured in at 6-3 and 225 pounds at the combine and put up a sparq-x in the 73rd-percentile.
4.08 – Kyle Lauletta, QB
Analyst: Matt Kelley (@Fantasy_Mansion)
Rationale: Kyle Lauletta was the top performing quarterback at the Senior Bowl and commanded attention from Giants scouts. Quarterback is valued at a super-premium in superflex formats, and Lauletta could easily usurp Davis Webb in training camp and emerge as Eli Manning's heir in New York. Similar to Scarbrough's upside calculus, back-up quarterbacks from Kyle Lauletta to Mason Rudolph offer the most asymmetrical upside late in superflex rookie drafts.
Other considerations: None
Bean Counter's two cents: Kyle Lauletta will be in a battle for backup QB with Davis Webb throughout training camp. The winner will likely be the heir apparent to Eli Manning as the future starting quarterback of the New York Giants. If Lauletta wins the backup job I suspect you will see a noticeable spike in his ADP.
4.09 – Jordan Wilkins, RB
Analyst: Craig Wambold (@CraigWambold)
Rationale: Wilkins has a real shot at meaningful "2-down grinder" carries this season. Wilkins posted a 6.5 (85th-percentile) college yards per carry, and with Marlon Mack recovering from shoulder surgery, he could impress with additional reps in OTA's. There are worse late round fliers.
Other Considerations: None
Bean Counter's two cents: Jordan Wilkins is another player in this draft that has gained all of his value from his perceived "good landing spot". If he were to win the 2 down grinder role heading into the regular season I would be looking to cash out immediately. His profile does not offer much to get excited about.
4.10 – Deon Cain, WR
Analyst:
 Daniel Tarditi (@diti51)
Rationale: I was debating between Jaylen Samuels in Pittsburgh and Deon Cain in Indy.  I went with the higher profile guy from Clemson, Deon Cain.  He will be the WR2 behind TY Hilton in Indianapolis.  Its a gamble that Luck returns; if so, Cain should feast while facing lesser cornerbacks and single coverage.  Whereas Samuels is stuck behind Bell.  If Cain flashes, I can always flip him for future pick or player if I want to cash out.
Other Considerations: Jaylen Samuels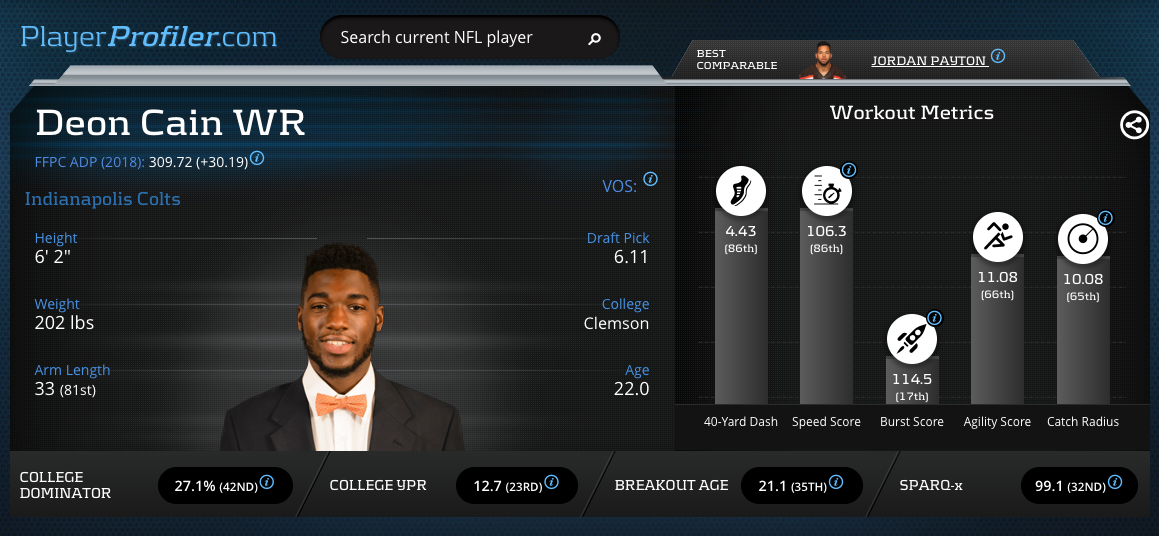 Bean Counter's two cents: Deon Cain was not able to turn the Clemson wide receiver brand into very much draft capital. Given where he played college football there is a very slim chance that he has slipped through the cracks in the NFL scouting community. This is a player that has a very weak college profile in all regards with the exception being his speed. He ran a very fast 4.43 40-yard dash (86th-percentile). He is a sell for me.
4.11 – Jaylen Samuels, RB
Analyst:
 Eric Lindberg (@eriiclindberg)
Rationale: Jaylen Samuels is a versatile weapon on Pittsburgh's offense. Samuels will presumably operate as a change of pace back behind Le'Veon Bell, but his true value will come from his receiving ability. Samuels carries a 20.2-percent College Target Share and impressive size-adjusted speed and agility for standing 6'0, 225-lbs. Initially, it will be tough for Samuels to work his way to a sizable target share playing alongside Bell, but his versatility should lead Pittsburgh to get him on the field and use him in a variety of ways.
Other considerations: Trey Quinn, DaeSean Hamilton
---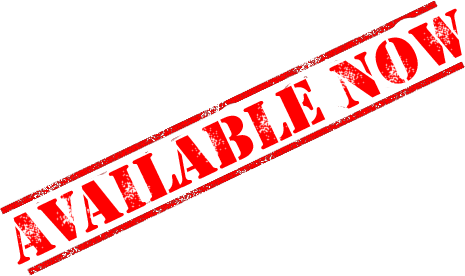 ---
Bean Counter's two cents: Jaylen Samuels is a swiss army knife and for that reason he carries a lot of potential payoff. If he can find a singular role in the NFL it will be the first time that he will have been able to "master his craft". That being said, I suspect he will be in line for a long development and therefore if I received a decent offer I wouldn't hesitate to move him.
4.12 – Mark Walton, RB
Analyst: Kyle Dvorchak (@ffkylethekid)
Rationale: Walton looks more like Giovani Bernard than Joe Mixon, but that isn't such a bad thing. His best comparable player, Devonta Freeman, implies a ceiling of NFL success, but his realistic outcome is more likely a back-up to Mixon. Mixon has character concerns, and with a partial season of underwhelming production under his belt, maybe it turns out he isn't that good. I think he is, but if I'm wrong Walton could get a chance. 
Other considerations: None
Bean Counter's two cents: Our Mr. Irrelevant is a satellite back that is fairly "meh" all around. If given the chance to move him for anything, I would.