On the 10th of August 2019, Graham Potter began managing Brighton for the first time. Their manager of five years, Chris Hughton, had been sacked at the end of the previous season. He had helped the Seagulls reach the Premier League but staying afloat proved difficult.
They were battling relegation every season, and the board ran out of patience when Brighton went on a run of 23 games where they registered just three wins. And while they managed to survive relegation each season, their style of football felt very bland and vulnerable. Graham Potter changed all that. In his first season at Brighton, Potter achieved the club's highest points tally in Premier League history of 41 points and matched it again the next season. Despite their league finishes being about the same, there was a swagger in the way that they played football. Potter had a plan.
This trust in the manager paid off for them in the 2021-22 season as they smashed their previous record of 41 points and accumulated 51, finishing in 9th place. They registered 12 wins and 15 draws, losing just 11 games (fewer than Arsenal, Manchester United and West Ham).
So how exactly did they manage that?
It was a roller-coaster of a season for Brighton. They beat Manchester United 4-0, won against Arsenal 2-1, and took points off of Chelsea, Liverpool, Leicester, and Tottenham. At the same time, they went on a winless streak of 7 games, losing 6 of them in a row. But overall, Potter's side won a lot of games they weren't otherwise expected to win.
Speaking of expected, there is a running joke about how Brighton always underperforms their expected goals. No surprise, they did it again this season. The players scored 40 goals in the Premier League from an xGoals of 51.35.
How do they line up?
Brighton often line-up in a back three, playing different versions of the 3-4-3. They have stuck to this formation and signed players accordingly who fit the bill.
Marc Cucurella's signing from Getafe has proven to be a stroke of genius. The Spaniard plays on the left-hand side of a back 3 or as a left-wing back in midfield. Cucurella is adept at bombing down the flank and is in the top 87-percentile of shot-creating actions (vs fullbacks in the top five leagues of Europe).
Another superb signing, albeit made in 2019, was Leandro Trossard. The Belgian is a gifted dribbler of the ball, and his creativity has awarded him with eight goals and three assists all season. These numbers are the highest goal and assist totals for a Brighton player. His contributions have come against sides like Tottenham, Liverpool, and Manchester United as well.
Off The Ball
Brighton have done very well defensively, and the amazing part is they have done so while maintaining a rather traditional approach. Graham Potter has his side set up in a 4-4-2 low block when the team is battling for possession.
However, this is not a regular 4-4-2 low block wherein the defending team waits for the opponents to make an error. Brighton actively presses the opposition defense, forcing them into giving up possession cheaply. In fact, they are defensive monsters in their attacking, ranking No. 3, as this graph shows us.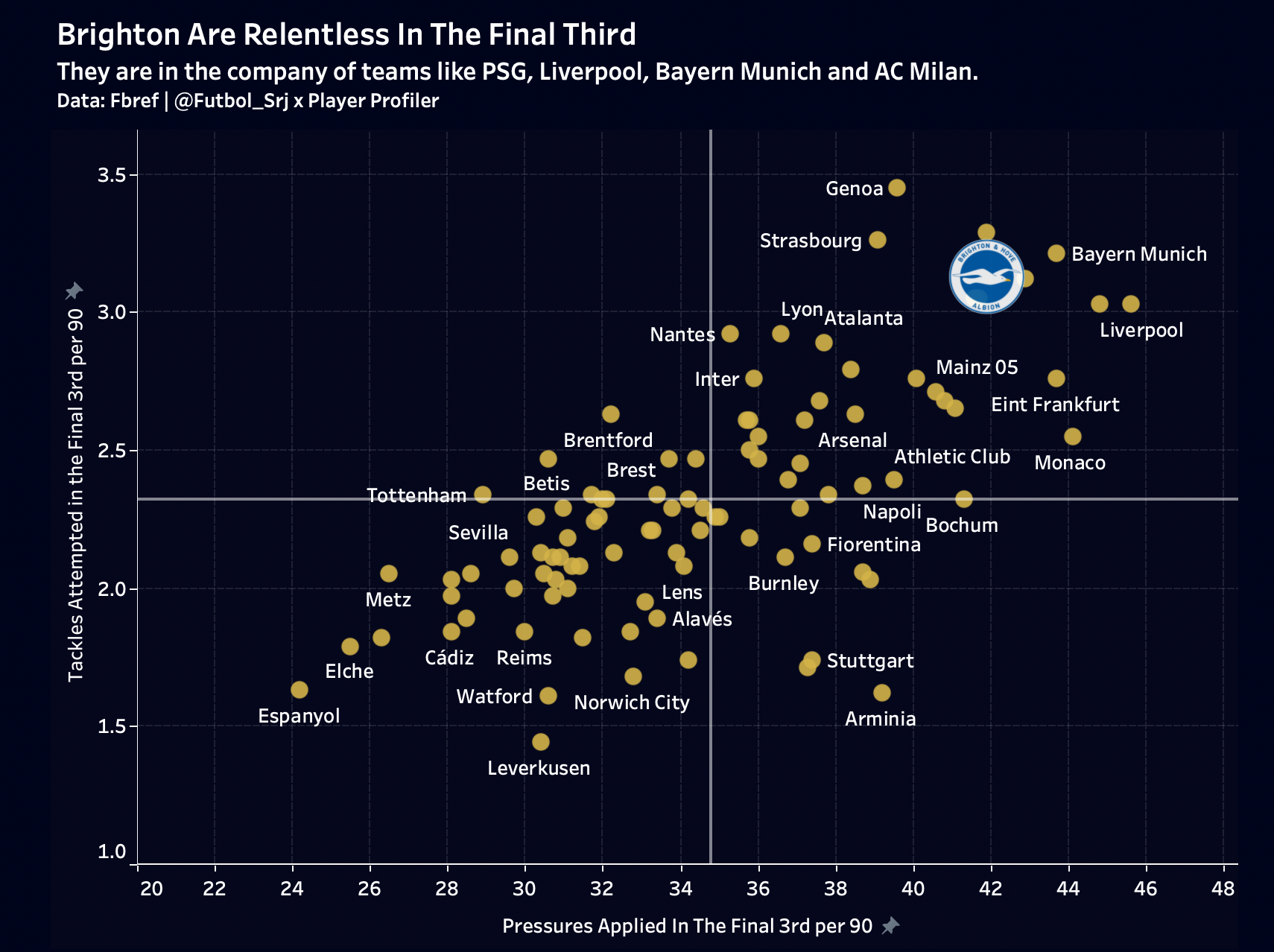 Brighton have done well to choke out their opponents' attacks and have the lowest errors leading to shots against in the league. They also have the sixth-lowest goals conceded and xGoals Against in the Premier League at 44 and 47.21 respectively.
On The Ball
When Brighton has the ball, they begin in a 3-5-2 set-up. One of the full-backs drops deeper inside to assist the center-backs in building-up play from the back. All of Brighton's defenders are tasked with initiating the attack in the first phase of play.
As the graph tells us, Brighton is great at playing out the back as their defenders are good passers. They progress the ball well up the pitch in terms of either long passes or progressive passes. Even Robert Sanchez, the goal-keeper, is a part of the build-up. The Spanish keeper has the second-highest number of attempted passes in the Premier League at 1,301. Because they play a 3-5-2, they are equally adept at creating chances down the flanks as well as from the center of the pitch.
Up-front, Trossard and Neal Maupay are two very different types of forwards but they both complement each other very well. Trossard is a much better dribbler and is adept at receiving the ball outside the box and creating chances. Maupay, on the other hand, is better at being in the right place at the right time to convert chances inside the box.
Transfer Activity
Something that I really appreciate about Brighton is their eye in the transfer market. This is not to say that they sign hidden gems. That statement is only partially true, but they do take risks on players the market refuses to value. Talents like Marc Cucurella, Yves Bissouma, Moises Caicedo, and Enoch Mwepu were well-known players. While no team thought they were worth an investment, Brighton stepped in and it has paid off for them. And now that Yves Bissouma has left, it will be interesting to see who they bring in as a replacement.
More than anything, the Brighton and Hove Albion board have trusted Graham Potter's vision and given him the backing that he needs. They are currently the epitome of the fruits a team gets when they build a team around a game plan and not the other way around.