The RotoUnderworld audience often asked the question: How did the advanced metrics miss Antonio Brown? Our response, "They did?"
The most predictive metric on a wide receiver prospect profile is Breakout Age, and by breaking out at 19.2, Antonio Brown cleared the 80th percentile. Rushing production and special teams versatility also indicate wide receiver success at the next level. Brown finished his junior season at Central Michigan with 1539 yards from scrimmage and 12 total touchdowns. He has been #GoodAtFootball since 2007.
Target Dominance
Since Brown became the Steeler's primary wide receiver in 2013, he's dominated his NFL contemporaries in the most important metric of all: Target Share. This season, Brown has 10 or more targets in all but two games.
| | | |
| --- | --- | --- |
| Season | Target Share | Rank |
| 2013 | 28.6% | #7 |
| 2014 | 30.1% | #4 |
| 2015 | 33.0% | #1 |
| 2016 | 27.8% | #6 |
| 2017 | 32.1% | #2 |
Elite WR Amalgam
Over the last five years, Brown has converted 823 targets into 561 receptions, 7,510 yards, 51 touchdowns, and 1,618 fantasy points. Antonio Brown wins in all quadrants of the football field with a dazzling array of wide receiver skills. He is equipped Dez Bryant's touchdown prowess, DeAndre Hopkins' target dominance, Keenan Allen's route precision, Larry Fitzgerald's hands, and Julio Jones' downfield playmaking ability.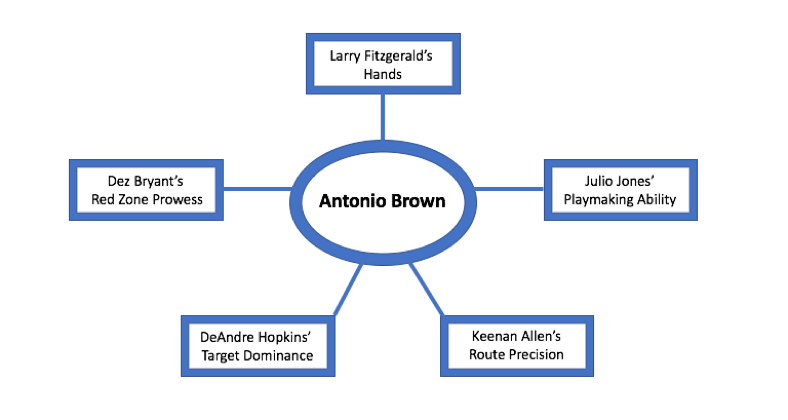 What about Randy Moss?
This season, Brown will be the first receiver to post double-digit touchdowns for four straight seasons since Randy Moss. Moss was 6-4, Antonio Brown is 5-10. While Moss' career flamed out in his early thirties, Antonio Brown's career arc projects to extend into his late thirties. Extrapolated productivity, in conjunction with assumed longevity, indicate that Brown will finish his career as a better all-time receiver than Randy Moss.
Jerry Rice Trajectory
Antonio Brown is spectacular football asteroid on collision course with planet Jerry Rice. Starting 2013, Brown has missed zero games due to injury. A pristine health track record and résumé of unmatched productivity puts Brown on a once-a-generation trajectory. He is the only current NFL player capable of breaking Rice's vaunted records. Ironically, the West Coast offense concepts that Jerry Rice helped popularize in the 1980's, a high pass volume offense featuring a high completion percentage of short and intermediate routes makes Brown a real threat to Rice's standing in the NFL history books.
| | | |
| --- | --- | --- |
| Career Stats | Jerry Rice | Antonio Brown (projected) |
|  Receptions | 1549 | 1583 |
|  Yards | 22,895 | 22,230 |
|  Touchdowns | 197 | 138 |
Understanding that a 10-year projection of anything in society is a fool's errand rife with extreme uncertainty, follow me on a brief thought experiment with a pit stop in Hot Takeville. Assuming Antonio Brown's production stays in-line with his 2013-2017 averages for the next five years, his production then declines steadily after age 34, and he retires at age 39, Brown would surpass Rice in career receptions by the year 2026.
Buckle up.