The NEED
Diogo Jota is more of a necessity for Liverpool than he was ever before. Even though Liverpool have signed Darwin Núñez, a prolific and efficient striker, it will be tough for the 23-year-old Uruguayan international to fill the void left by Sadio Mané's departure.
Both Jota and Núñez are brilliant at getting into dangerous positions. Their movement inside the box is incredible. However, there are also other attributes that made Diogo Jota one of the best strikers in the league last season.
The Portuguese international proved to be the best pressers in the premier league last season among forwards. This is both in terms of volume and efficiency. He averaged a total of 22.4 pressures per 90, with a success rate of 27.8-percent. Only Jordan Ayew and Wout Weghorst attempted more pressures per 90 than him and only Ayew had a better success rate (28.3-percent).
Jota registered the league's highest NPxG per 90 (non-penalty expected goals per 90) last season (0.65). Higher than Salah, Mané, Kane, Son etc etc.
He maintains a good balance between his defensive and offensive duties.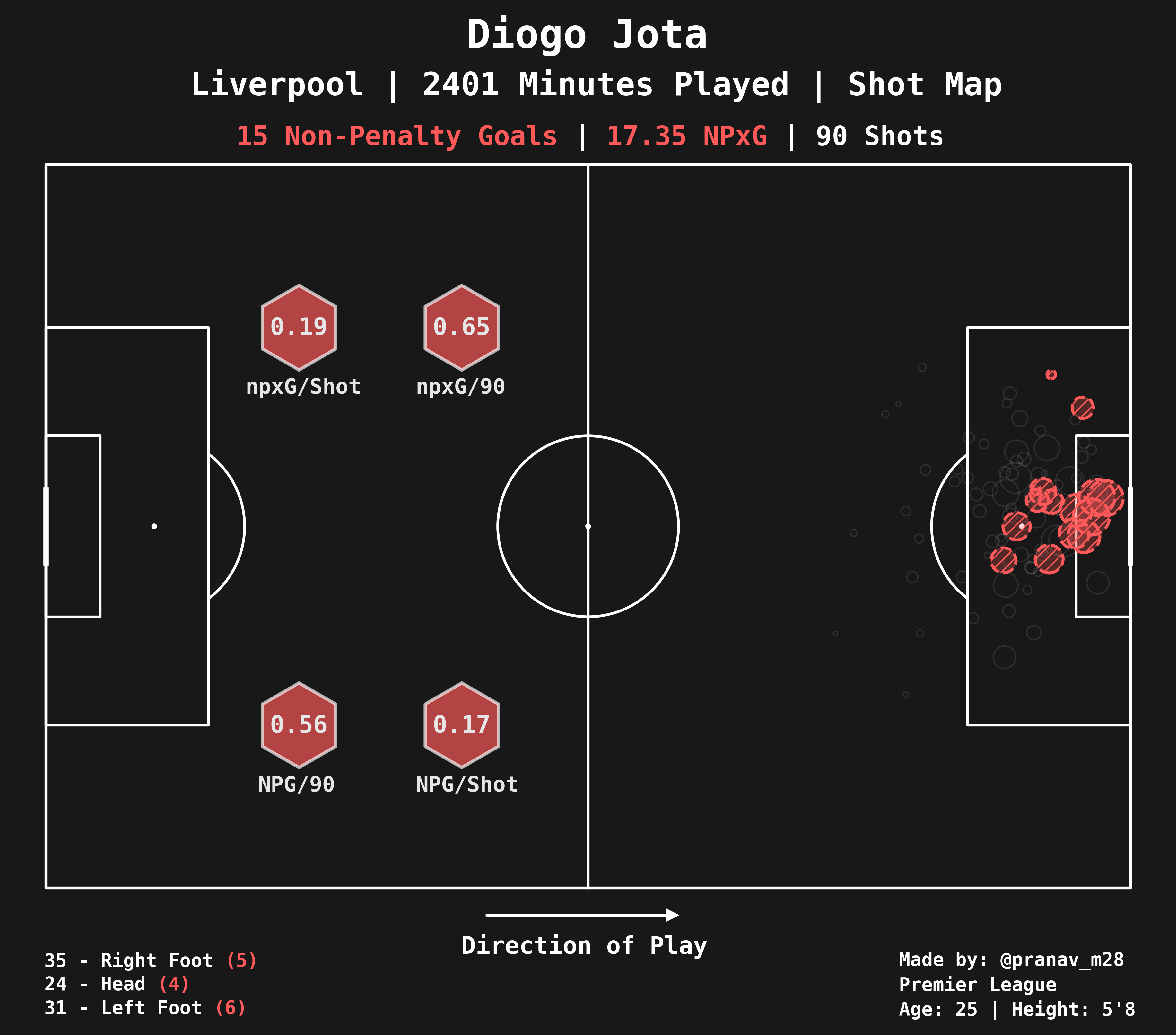 Just a side note: Having a NPxG/Shot of 0.19 in the Premier League is outrageous. (It depicts the quality of each shot taken by the player)
Conclusion
Núñez is undoubtedly a great addition to the squad. However, he still needs time to adjust to the Premier League. He displayed his quality in the first game. But, he also displayed that he isn't mentally there when he head-butted Andersen last night and was suspended for three games. In my opinion, there are still a lot of things left for Núñez to learn.
On the other hand, Jota has the Premier League and Liverpool experience under his belt. He understands and embraces the conditions and competition in England.
This is why the front three of Diaz-Jota-Salah is the closest we have to the golden Mané-Firmino-Salah combination.
Jota is already accustomed to the Premier League and has performed incredibly well. He deserves to be a starter as soon as he is fit to play.
All data and stats taken from Opta and Statsbomb via FBref.