Is your fantasy football season over? Are you dying to be able to watch sports with stakes again? Or do you simply just want more football in your life? Well, if you answered "Yes!" to any of those questions, I have a treat for you- the 2022 World Cup is upon us! You may be asking- Why would I care about the World Cup? Well, it only happens every four years, and this time our United States will be represented for the first time since 2014! Not to mention it's the biggest sporting event in the world, so why not lean into it? I'm gonna be bringing you everything you need to know about the World Cup with a focus on the United States team. Without further ado, let's dive into the 2022 World Cup!
The Set Up
The World Cup will run from November 20-December 18 in Qatar. The first portion of the tournament is the Group Stage, where 32 countries are split into eight groups and play within their group. The top two teams are taken from each group after the whole group plays each other. Those teams will make up a 16-team knockout tournament, single elimination. Oh yeah baby, there is nothing quite like single-elimination tournaments. This is especially true for a high-caliber one like the World Cup. The United States is in Group B, along with England, Wales, and Iran. England is the favorite to win the group, but the U.S. is still expected to get second and then advance into the knockout stage. The knockout stage will run from December 3-December 18.
The Group (B)
England
Your #ThreeLions squad for the @FIFAWorldCup! 🦁 pic.twitter.com/z6gVkRTlT3

— England (@England) November 10, 2022
Odds to Advance: -2500
Odds to Win the World Cup: +950
Group B's favorite is England or The Three Lions. They have qualified for every World Cup since 1950 and have even made it to 15 knockout rounds out of 18 World Cup appearances. They even finished fourth in the 2018 World Cup. Recently, they were the runner-ups in the 2020 Euros. England is led by Harry Kane who won the Golden Boot in the 2020/21 Premier League season. The boot is awarded to the highest scorer in the league for the year. He scored 23 goals in 38 matches. Another step further, he scored 12 goals across England's eight qualifier games. England didn't lose a single one of their qualifier games either. The Three Lions are all but guaranteed to make it out of this Group Stage and bring their talents to the knockout rounds.
United States
Our 2️⃣6️⃣.

Full Roster Details » https://t.co/bQXU2MBjVh#USMNT x @budweiserusa pic.twitter.com/8N5kVwjrIp

— U.S. Men's National Soccer Team (@USMNT) November 9, 2022
Odds to Advance: +100
Odds to Win the World Cup: +10000
The United States failed to qualify for the last World Cup after going to seven straight dating back to 1990. They qualified on the back of a 7-4-3 record in the CONCACAF qualification group. It was good enough to finish third in the group behind Mexico and Canada, but luckily the top three in CONCACAF qualify for the World Cup. The United States is led by Chelsea's Christian Pulisic, who has garnered the nickname "Captain America." He's the first American to play in the Champions League finals and was instrumental to Chelsea's tournament run and victory. He has scored 21 goals in 52 appearances for the US team. The United States is expected to finish second in this group and at least make it to the knockout rounds.
Wales
Hanes. History. 🏴󠁧󠁢󠁷󠁬󠁳󠁿#ArBenYByd | #TogetherStronger pic.twitter.com/xqqoAaPfSA

— Wales 🏴󠁧󠁢󠁷󠁬󠁳󠁿 (@Cymru) November 9, 2022
Odds to Advance: +120
Odds to Win the World Cup: +12500
The Wales national team hasn't qualified for the World Cup since 1958. Their qualification group was won by Belgium, so they were forced into a playoff where they beat Austria and then Ukraine. This is an impressive run that has made them a dangerous team to have to play in the qualifiers. They are led by former Real Madrid star Gareth Bale. He has scored 40 goals in his 107 international games, has been the Welsh Footballer of the Year six times, and is the country's all-time leading scorer. Upon transferring to Real Madrid in 2013, his transfer fee was an all-time record. With a player like that, and a chip on their shoulder after not qualifying for 64 years, Wales is a force to be reckoned with.
Iran
Odds to Advance: +275
Odds to Win the World Cup: +50000
Iran has qualified for three straight World Cup appearances, and six all-time, but has never made it past the group stage. They are led by forward Sardar Azmoun who plays for Bundesliga club Bayer Leverkusen. The Iran national team won their qualifying group after going 8-1-1 but is nowhere near expected to make any noise in the World Cup.
The Schedule
USA vs Wales
Monday, November 21 at 2:00pm EST
Odds: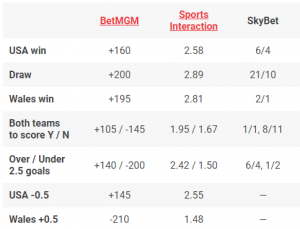 The most important match in this stage kicks off our matchups. Whoever wins this will likely be advancing to the next round as both of these teams should beat Iran. The United States will need to at least draw in this game to advance. If they at least draw, it will come down to goal differential where the U.S. can try to beat or draw England and then run up the score against Iran. This game in particular will come down to how much Gareth Bale can show up for Wales. He will be fired up, but in terms of the total team- the United States clearly has the edge.
USA vs England
Friday, November 25 at 2:00 pm EST
Odds:
Depending on how the game against Wales goes this game can go a few ways. If the United States pulls out a win on Monday, they should be energized enough to keep this game close. Otherwise, they probably won't have much hope. England is definitely one of the better teams in the world, so it's a tough draw even being in their group. If we can pull out a draw, fans should be more than happy.
USA vs Iran
Tuesday, November 29 at 2:00 pm EST
Odds: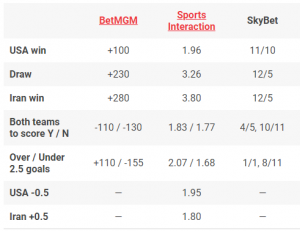 As mentioned in the Wales matchup, this game could end up saving the United States if needed. The tiebreaker in the World Cup is goal differential, followed by goals scored. If the U.S. struggles early, they still would have a chance to turn things around with a blowout win against Iran. The last time these teams matched up it went down as "The Most Politically Charged Game in World Cup History," and Iran actually took the win 2-1. Hopefully, history doesn't repeat and the United States can come away with an easy win.
Lookahead
As you can see, The United States is favored in all of their matches except against England. Therefore, our home team should advance to the knockout stage as they only have to get second place. Monday's match against Wales will be the most important as whoever wins will likely advance alongside England to the knockout rounds. I will check back in after the group stage with a dive into the knockout stage of the World Cup. For now, I will leave you with some fun predictions- the United States will beat Iran, and Wales, and Draw their match with England winning the group and advancing!