When I hear the name Ishmael Zamora, I think of a wide receiver who has a name of somebody sent from another galaxy to planet earth to dominate the gridiron. That's not a knock on his name whatsoever, his name literally sounds like that of a superhero. You could argue that my Ishmael Zamora superhero theory only came closer to being proven when the 6-foot-4, 224-pound wide receiver clocked a 4.49 40-yard dash time at his pro day, while also posting a 40-inch vertical leap and 11-foot broad jump.
Ishmael Zamora's numbers shouldn't come as much of a surprise given his history as a high school champion at the 110-meter hurdles. The key to his success at the NFL level will now be turning his raw talent into on-field productivity. Zamora is one of the few wide receivers from a major conference program in this year's NFL Draft who looks the part of a prototypical split end/X-receiver at the NFL level.
During his time at Baylor, Ishmael Zamora posted 72 receptions for 941 yards and 10 touchdowns. He was suspended for three games during his final season at Baylor after a video emerged of him abusing a dog, resulting in a misdemeanor animal abuse charge. Despite playing opposite fellow teammate and 2017 NFL draft prospect KD Cannon, Ishmael Zamora still finished his final season at Baylor with 63 catches for 809 yards and eight touchdowns.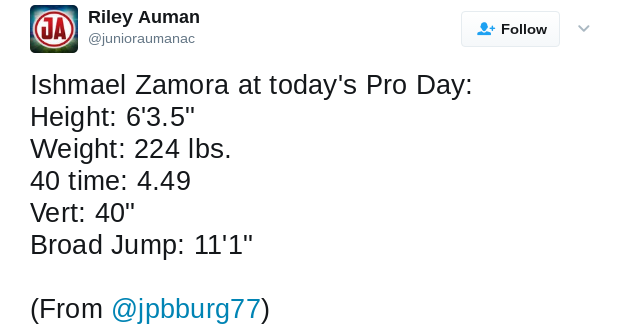 He's a big-bodied wide receiver who will draw the attention of scouts across the league following his explosive pro day, but will need to refine his route running ability and hands in order to flourish as a pro. He's a big target in the red zone and holds a size advantage over nearly every cornerback in the league. Given his height, speed and impressive leaping ability, if Ishmael Zamora becomes more consistent in the passing game, the sky will be the limit for him. Literally.