Imagine:  You've waited nine months for Week 1 to arrive, only to witness the key pieces of your Championship team falling apart before your eyes.  If there is a worse fantasy football feeling, I don't know what it is. Many Allen Robinson owners (including yours truly) find themselves in this position after last Sunday's debacle, but before anyone hits the panic button and jumps ship, it's important to dig a little bit deeper into the context of Robinson's performance.  I will show you why you should hold on to Robinson, reject those buy low offers and expect bigger and better things out of the sophomore WR.
Picking Up the Pieces
When it comes to player evaluation, I am more of a "numbers guy."  I watch film to contextualize the numbers, and at times, use the eye test as a player comparison tiebreaker.  The great thing about PlayerProfiler is that it allows you to quickly sort through meaningful data with the swipe of a finger.  You can gain insight into a player's efficiency on the field as well as his physical talent.  At this point, we know that Allen Robinson is talented; his closest comp is Dez Bryant.  We know that he has a history of productivity; we can look at his college production as well as his NFL rookie year.  So what the hell happened last week?

Unfortunately, sometimes watching film is a necessary evil, as is the case when figuring out what happened against the Carolina Panthers.  After watching the game, I came to the conclusion that the reason for the Week 1 flop was due to missed opportunity rather than failure to create opportunity.  While Allen Robinson certainly shoulders a portion of the blame, it is important to note that Blake Bortles put on one of the most inaccurate shows of passing that I have ever witnessed.
A Closer Look
Target 1: 1st-and-10 – Incomplete
This play starts off with the DB giving Robinson a seven yard cushion at the line.  As we can see in the first frame, Robinson quickly eats up this cushion and gets the defender's hips turned. Bortles is flushed to the right but reads the route perfectly.
Allen Robinson creates separation on the comeback as we can see in frame two.  Blake Bortles delivers a strike that Robinson flat out drops.  If Robinson simply secures the pass it's an 18 yard gain with an opportunity to pick up more. Dropping a pass like this is inexcusable for any WR…but it happens. Chalk it up to a concentration lapse.
Target 2: 3rd-and-Goal – Incomplete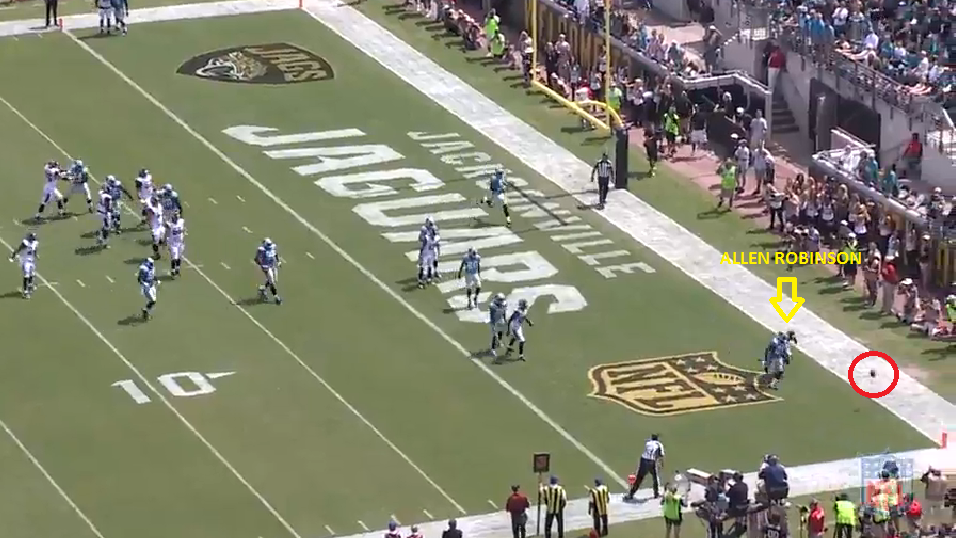 On the next opportunity, the Jags had a 3rd-and-goal from the 3-yard line. What you like about this play is the intent to get Allen Robinson the ball in the end zone. This play, however, was a prime example of the accuracy issues that Bortles was having all afternoon long. Robinson didn't create great separation on this play, but Blake Bortles didn't even give Robinson an opportunity to make a play as he sailed the ball five yards over Robinson's head. It's plays like these that drive me mad. The box score will show a target to Robinson, but the ball was completely uncatchable.
Target 3: 2nd-and-4 – Incomplete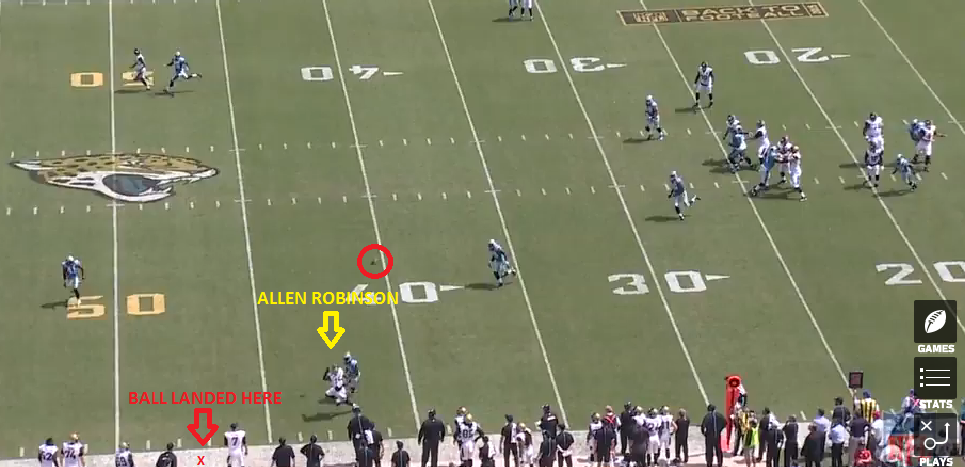 On Allen Robinson's 3rd target, it was more accuracy issues from Blake Bortles.  Robinson manages to gain a step or two on the defender. There is more than enough real estate for Bortles to lead Robinson on this fly route.  Bortles once again doesn't even give Robinson a chance to make a play.  The red "X" in this frame is where the ball landed (four yards out of bounds).  The pass would have been perfect if Bortles was throwing to Chad Henne on the sideline.  The important thing to keep in mind on this play is the opportunity:  Robinson got a deep target that could have gone for big yardage.
Target 4: 1st-and-10 – 27 yard Completion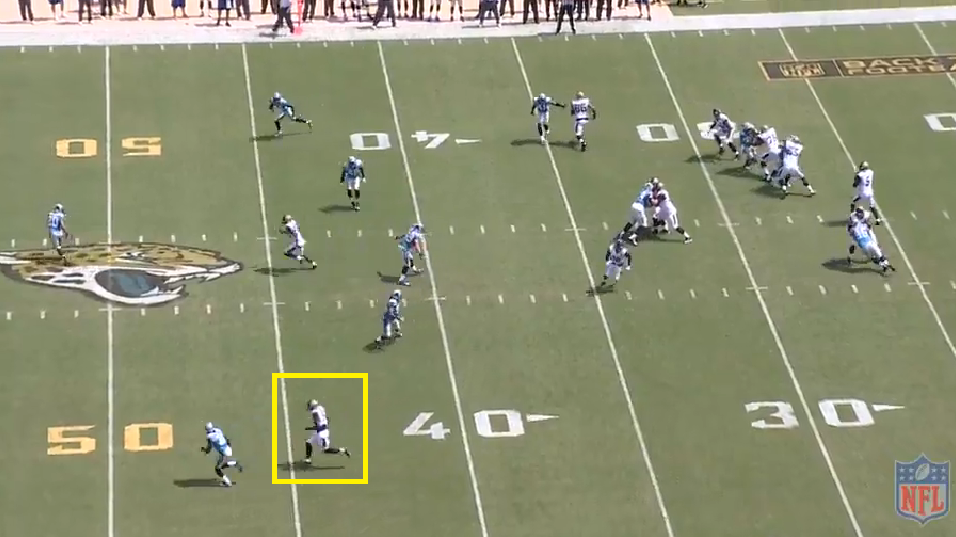 Two plays later, the Panthers were in a Cover 3 look with zone underneath.  Blake Bortles and Allen Robinson both read the coverage perfectly on this play.  Robinson identifies the soft spot in the zone and breaks off a post route.
Allen Robinson creates space and a good frame for Blake Bortles to hit on this play.  Bortles makes an accurate throw and the play goes for 27 yards.  This is the type of coordination that you want to see from these two guys.  If Bortles and Robinson can stay on the same page in the future, there will be plenty of plays like this.
Target 5: 1st-and-goal – Incomplete
Of all the plays on the day, this is the one I have the biggest issue with. It is 1st-and-goal from the 1-yard line. Again, I like the intent of the play call to get Allen Robinson the ball. As you can see in the first frame, Robinson beats the jam off the line and (at this point) has the advantage on Josh Norman.  Blake Bortles then has two options to succeed on this play:  As soon as the DB's hips turn he can make a back shoulder pass to the green box on the right or he can throw the ball higher towards the corner of the end zone where only Robinson can get it.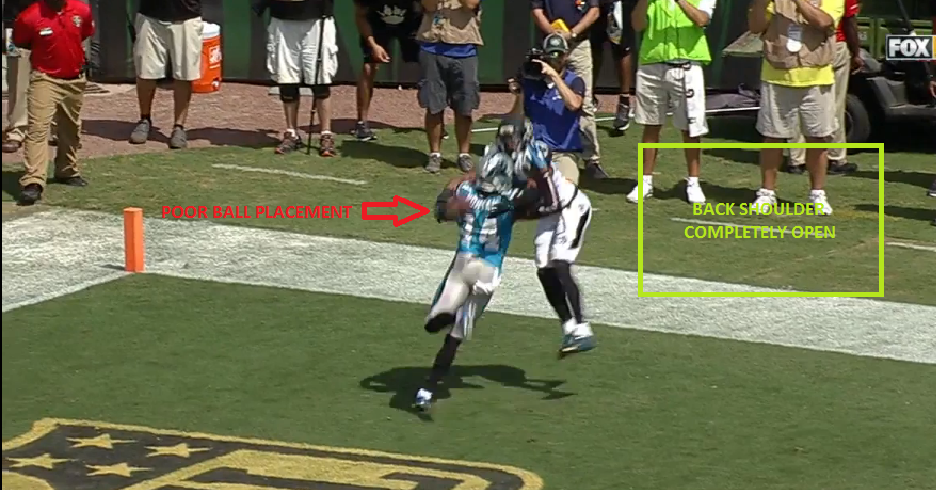 The second frame shows just how bad the placement of this throw was.  He doesn't choose either option and instead puts the ball squarely in the numbers of the defender's back.  Allen Robinson tries unsuccessfully to make a play on the ball by reaching around the defender.  Blake Bortles shoulders all of the blame on this play.
Target 6: 1st-and-10 – Incompletion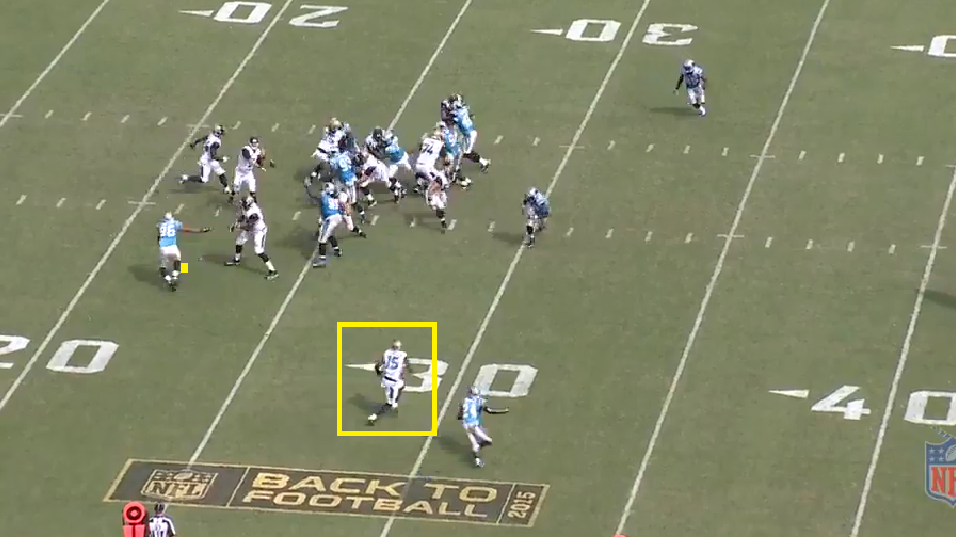 Allen Robinson saw his final target in the 4th quarter of the game.  Once again, Robinson beats his man and creates separation on the quick slant.  Robinson squares up and creates a nice window for Blake Bortles to throw to.  Bortles makes the read but accuracy and placement issues again show up.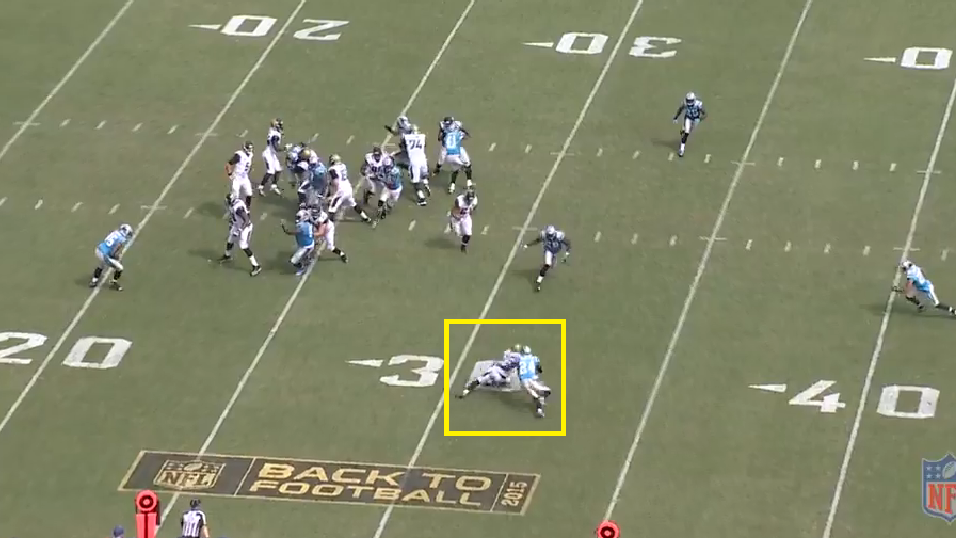 Blake Bortles throws the ball low and in front of Allen Robinson, forcing him to go down to make a play on the ball.  Robinson is not without blame on this play.  While the placement of this throw was off, it's a catch that could have been made and one that top WRs make on a regular basis. If Robinson makes the catch, it's a seven yard gain. If Bortles puts the ball on the numbers and hits Robinson in stride, it's a big opportunity to rack up more yards after the catch.
Final Thoughts
Seeing the box score for this game caused a bit of a panic.  After watching the game film, I came away reassured that I had not made a mistake by drafting Allen Robinson on so many of my teams.  There are three big things to take away from this game:
First, Allen Robinson's tape matches up with the numbers you see on Player Profiler. He consistently beat his defender and put himself in a position to make plays. The two drops Robinson had on the day don't concern me. In 2014 Robinson had 1 drop on 82 targets, which placed him in the top 5 among WRs.
Second, consider Allen Robinson's opportunity.  The Jaguars' play calling showed the intent to get Robinson the ball in positive fantasy scoring situations. Five of Robinson's six targets came on deep passes or end zone targets.  Robinson will continue to receive these high-value targets as the season goes on, presumably with better results as he and Bortles find their stride.
Finally, Blake Bortles played one of the least-accurate games I have ever seen.  He was erratic and off on his placement all day no matter who he was throwing to.  It was so bad that I honestly can't see it being worse.  Blake Bortles' accuracy issues could cost Robinson scoring opportunities on occasion throughout the year.  Thankfully, this was an uncharacteristically inaccurate day for Bortles, managing a completion percentage of just 55-percent despite averaging 59-percent in his rookie year.
Fantasy football is a game of peaks and valleys.  Allen Robinson's day should, at a minimum, been 3 catches for 53 yards with the opportunity for more.  I fully expect that Robinson got his worst game of the season out of the way in Week 1.  Don't be the owner who over-reacts to one game and makes a rash decision, only to see your guy blow up on someone else's roster.  Allen Robinson is a strong hold and should build upon the mistakes made in Week 1.  In 2014, Robinson only saw one target before going on a tear that saw him finish as the WR19 before missing time due to a foot injury.  Robinson is a prime buy-low candidate who should be targeted by savvy owners looking to take advantage of owners who are hitting the panic button.
Fantasy Advice: HOLD Allen Robinson (don't sell low, yet)